Warm and nourishing … Lentil Soup! 🙌🏻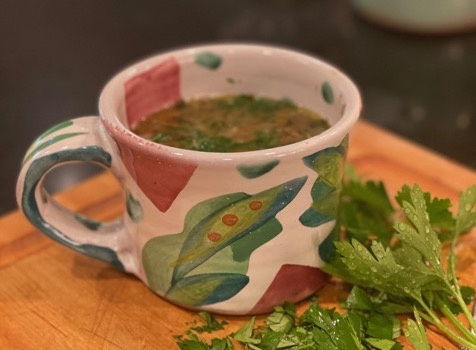 Dear Friends,
Rainy morning? Bring on the soup! In today's newsletter and video, I give you Lentil Soup. This soup takes about 10 minutes to prepare, and you're ready to enjoy for lunch or dinner. You can follow my recipe or edit the ingredients to your dietary or culinary preferences.
When preparing today, I used my favorite Lentils recommended by good friend, Mary Beaver. Since she turned me on to the Trader Joe's Lentils, I always keep a box or two in my frig throughout fall and winter. I'm also using a new favorite chicken broth, Kirkland's Organic Bone Broth from Costco. As a backup, I recommend keeping Better Than Bouillon Roasted Chicken Base and Roasted Beef Base in your to use when you don't have Chicken or Beef Broth in your pantry. There may be ingredients in the "Better Than" products you may prefer to avoid, but these work well when you're in a pinch.
For more inspiration, strategies, sources, resources, tips, ideas, and more be sure to register for the next and final 30 Days to Effortless Entertaining Workshop. This is the last workshop for 2021, just in time for your fall and holiday entertaining!
I hope you enjoy one of my fall and winter favorites … effortless, versatile, healthy … what's not to love!
From our home to yours,
---
Lentil Soup
YIELDS ~2 quarts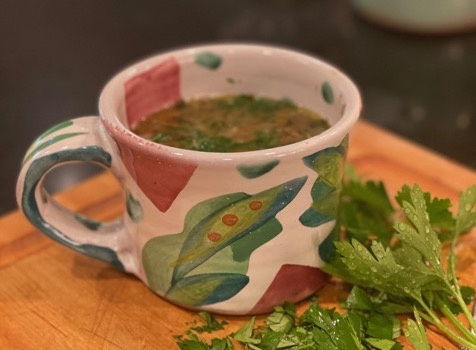 INGREDIENTS
1 pkg Trader Joe's Steamed Lentils
1 lb link, rope, or Italian sausage
¾ cup chopped onion
4 — 6 cups chicken broth
½ — 1 cup chopped parsley
Salt and pepper
DIRECTIONS
Heat lentils in microwave according to package instructions. In a medium pot, brown sausage over medium-high heat. Add onion, sauté until tender. Add lentils, broth, parsley, salt and pepper. Add the broth to the soup consistency you like.
You may prepare in advance. Keeps well in the refrigerator
for 3 – 5 days.
You may substitute Trader Joes's with 3 cups lentils of your own preference.
You may also make with Kielbasa or pulled roasted chicken,
or without any meat.
You may add additional vegetables such as sliced or shredded carrots, celery, red bell pepper, kale. You may also add additional seasonings to make it more flavorful or spicy. I like to add a little Tabasco when I serve.
Freezes well.
---
SOURCES & RESOURCES