Memorial Day with Baby Back Ribs Everyone Will LOVE!

DEAR FRIENDS,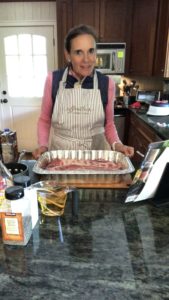 Take two! Sending a video and recipe I shared last year so you can be the hero this Memorial Day and all summer long with Roasted Baby Back Ribs! They are super easy and are jaw-dropping delicious! The best thing is that you can prep everything in advance, put them in the oven, and just leave them roasting on low heat all afternoon while you go out and have fun! As you'll see in the video, this is what I do! They cooked for hours — even longer than the recipe calls for — while we played golf. Served with Barbecue, Succotash, and Jalapeño Cornbread, and you have the perfect dinner!
In this 10-minute video, I show you just how easy the ribs and sauce recipes are.One thing to note, I realized when I watched the video that I forgot to cover the ribs (I did go back and do this). You want to cover tightly and re-check the chicken broth after a couple of hours to make sure it doesn't get cooked off. If it cooks down, add a little more.
I hope you have a wonderful Memorial Day with family and friends!
Follow EE on
Instagram and Facebook
---
Roasted Baby Back Ribs with Sauce
SERVES 8–10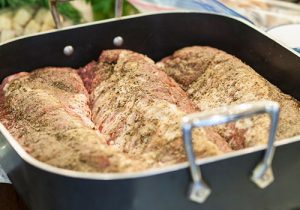 INGREDIENTS

6 lbs baby back pork ribs, 3 racks
Olive oil
1 tbsp cumin
1 tbsp oregano
2 tsp onion powder
1 tbsp salt
2 tsp freshly ground pepper
2 tsp chopped fresh rosemary
3 tbsp light brown sugar
3 tbsp sugar
6 cups chicken broth

BARBECUE SAUCE

1 cup ketchup
2½ cups apple cider vinegar
2 tbsp Worcestershire sauce
6 tbsp light brown sugar
1 tsp salt
2 tsp pepper
2 tsp onion powder
4 tsp mustard powder
2 tsp garlic powder
DIRECTIONS
Remove membrane from bone side of the ribs. Pat dry. Place ribs in a single layer, meat side up, in 1–2 large roasting pans and rub with olive oil.
Mix remaining ingredients except chicken broth. Spread mixture over the ribs. Add chicken broth – just enough to come up under the ribs, but not to cover the tops. Cover and cook at 300° for 3 hrs.
For sauce, whisk ingredients together.
Ribs may be served immediately or kept covered until ready to serve. Serve with warmed barbecue sauce.
Ribs may prepared earlier in the day. Cover and keep at room temperature. To serve warm, ribs may be prepped earlier in the day. Begin cooking 3–3 ½ hours prior to serving.
Sauce should be prepared early in the day or a week or more ahead.
For spicier ribs or sauce, add cayenne pepper.
For a thicker sauce, add more ketchup. Bring sauce to boil, lower heat, and cook, stirring frequently to thicken.
You may substitute homemade sauce with your favorite specialty sauce. I recommend a mix of Bone Suckin' Sauce and George's Original or Scott's Barbecue Sauce. I like to mix a thicker sauce with a vinegar-based sauce.

---
---