Hot Crab Dip
DEAR FRIENDS!
At a cocktail kickoff last night for our Ladies Member Guest at Grandfather, I served the two spreads, Cucumber and Three Pimento Cheese, featured earlier this summer to rave reviews. I added a third that everyone enjoyed so much, I want to share! I say, "everyone," when maybe that's not exactly true. We all know not everyone likes seafood, so there may have been a few who didn't even dip a cracker into this gooey, cheesy delight, but for those who did, they dipped again and again!
One important note, try to serve your seafood hors d'oeuvres in a dish that lets everyone know it's seafood. Note the fish bowl used for the crab dip. I bought mine a few years ago on our annual pilgrimage to see artists in the North Carolina mountains and found another one during this week's visit. If you follow me on Instagram, you also saw photos of our visit with Beth Walker at Gryphon Estate Silver. If you missed that post, check it out and be sure to visit @gryphonestatesilver on Instagram and their websites, www.gryphonestatesilver.com and oexningsilversmiths.com. They offer beautiful estate silver and restoration work. From this week's post, several friends are planning to send trays with broken handles, bent candelabras, and other pieces that need to be repaired and refreshed.
Back to the Hot Crab Dip … buy a sea creature bowl and add this yummy spread to your summer cocktail lineup!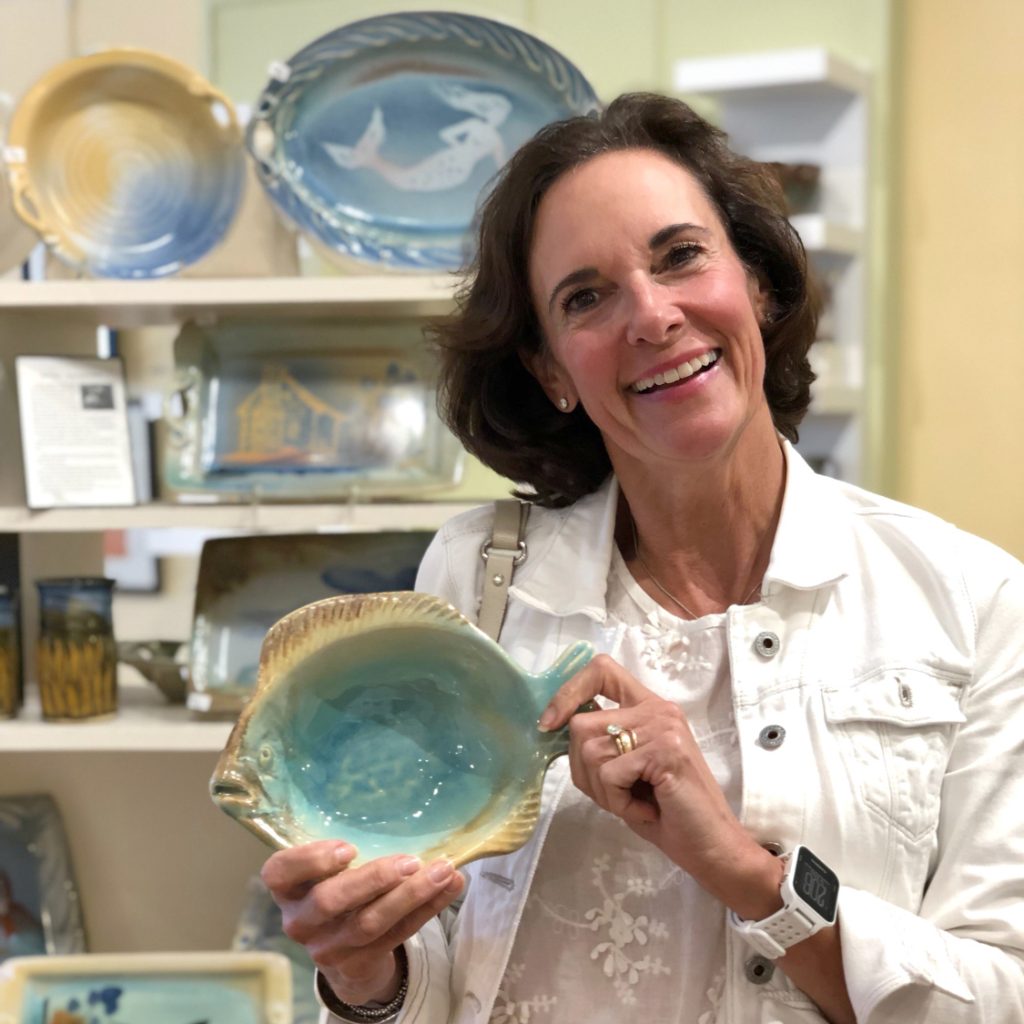 ---
Hot Crab Dip
SERVES 20–30     Inspired by Old Bay
INGREDIENTS
8 oz cream cheese, softened
¾ cup mayonnaise
2 tsp OLD BAY Seasoning
½ tsp ground mustard
1 tsp lemon juice
1 lb lump crabmeat
¼ cup shredded white cheddar cheese
1 tbsp chopped parsley
DIRECTIONS
In medium bowl, mix cream cheese, mayonnaise, Old Bay Seasoning, ground mustard, and lemon juice. Add crabmeat and mix gently.
Transfer to baking dish. Sprinkle with cheddar cheese and bake at 350° approx 20 mins.  Top with chopped parsley. Serve with assorted crackers or toasted baguette.
DEEDEE'S NOTES
Recipe may be prepared earlier in the day. Refrigerate and bake prior to serving.

Increases well.
---
---
---