Chocolate Chess Pie
Welcome to the February Dash! We have loved hearing from you! I'm delighted that so many of you enjoyed the Roasted Fish Casserole from the January Dash. In the spirit of Valentine's Day, let's reward ourselves for a healthy January by spending some quality time with our one true love: chocolate!  I give you . . . Chocolate Chess Pie.
---

First things first . . .
Because we know that your Effortless Entertaining membership is a new thing, we appreciate that it's taking a little time to get in the groove. If you missed one of the January newsletters, you can access both The Dash and The Dish on our website. To make sure your complimentary membership is activated, click here. If you have any questions about activating or accessing your membership, please email me at DeeDee@MyEffortlessEntertaining.com.
I've heard from a few of you who ordered the Round Pond Olive Oil. Here you'll see one of our favorite wines from Round Pond. I've also heard from members who printed The Dash and The Dish and added them to their binders . . . bravo! Send news and photos from your Jeffersonian Dinners, and let me know how many Almond Macaroons you ate. The ones you ate right out of the oven don't count!
If you gave Effortless Entertaining as a gift, you may want to forward this email to your gift recipients to make sure they are on our mailing list for The Dash and to remind them of the two-month complimentary membership to our community.
---

And now a Dash of Effortless Entertaining . . .
This recipe for Chocolate Chess Pie is so easy and so good, you may just want to enjoy this and the Round Pond Cabernet recommended below for Valentine's Day! Who needs dinner? Although the Whipped Cream is listed as optional, it really is a must. See page 291 in your Effortless Entertaining guide. If you're feeling a little ambitious, try making your own pie crust, page 287. It's easier than you think!
Chocolate Chess Pie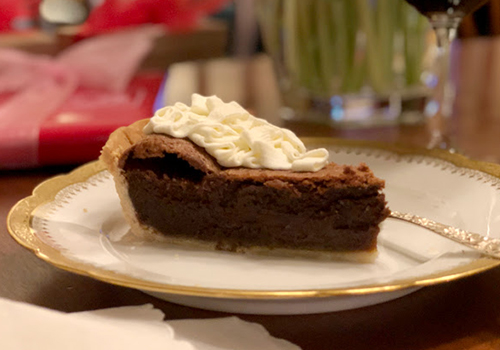 Serves 6–8     Adapted from Cook's Country
INGREDIENTS
1 refrigerated pie dough
¾ cup butter, sliced
3 oz unsweetened chocolate, chopped
1½ cups sugar
3 tbsp flour
½ tsp salt
4 eggs
2 egg yolks
¼ cup heavy cream
1½ tsp vanilla extract
whipped cream, optional
INSTRUCTIONS
Press pie dough into a 9-inch pie plate. Cook according to package instructions. Cool.
In a double boiler or in the microwave, melt butter and chocolate together. Cool.
In a medium bowl, mix sugar, flour, and salt. In a separate bowl, whisk eggs, egg yolks, cream, and vanilla extract. Add egg mixture to sugar mixture and whisk to blend.
Add chocolate mixture to egg-and-sugar mixture. Whisk to blend. Pour into pie shell. Bake at 325° for 35–40 min. Cool completely on wire rack.
Serve with whipped cream, optional. See Basics.
DEEDEE'S NOTES
As hard as it is to wait on something so good, you must cool this pie completely to serve. Recipe should be prepared earlier in the day, or may be prepared up to 4 days in advance. If earlier in the day, keep at room temperature. If 1 day or more in advance, chill. Bring to room temperature to serve.
When precooking pie shell, you must use some form of pie weights or weighted insert to keep the shell from shrinking and pulling away from the pie plate. To make your own pie dough, See Basics.
If using microwave to melt chocolate and butter, use that specific setting on your microwave or heat at 50 percent so that chocolate doesn't burn.
---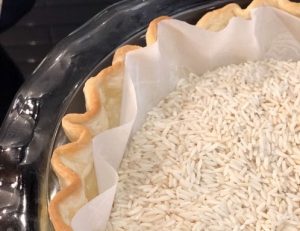 TIPS & QUIPS
DIY PIE WEIGHTS
If you don't have pie weights, try rice, beans, or as recommended in Bon Appétit, stainless steel ball bearings. I know! Who would have thought? If you use rice, cover the crust with a piece of lightly buttered parchment paper, lay the rice on top, and after using in place of pie weights, cook the rice and enjoy!
---
SOURCES & RESOURCES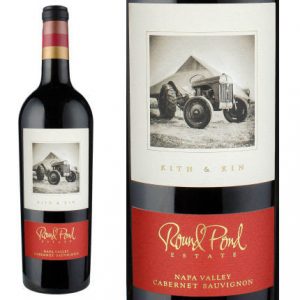 Round Pond Kith and Kin Wine – read more here
Kith and Kin Cabernet Sauvignon is full of flavor and a good value for such a fine wine.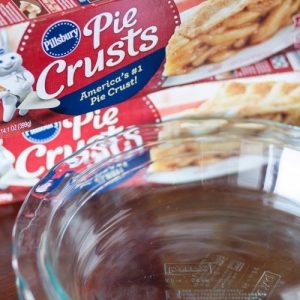 Pillsbury Refrigerated Pie Crust – available in your grocery store's refrigerated section.
My favorite crust for when I don't want to make from scratch.
---
News & Notes
Thank you to the Pinehurst Garden Club and the Garden Club of the Sandhills for your warm welcome at your January meeting and to Betty Kelly's Gifts in Fayetteville, NC, for the book signing in your beautiful shop!
---
---
Members, look for The Dish coming your way soon . . .
Celebrate Easter with a new Menu
Layered Hummus, Fancy Pork Roast, Southern Green Beans
Table Style Points
Perfect hard-boiled eggs