Salmon Kebabs

Dear Friends,
If you're like me, you may be feeling the need to dial it back after Valentine's and the Presidents' Day holiday weekend. For those looking for lighter fare, I give you a weeknight favorite that is also special enough to serve guests … Salmon Kebabs. I discovered this recipe the summer I decided to prepare twenty-one recipes in one month from the June Bon Appétit. If you were receiving my emails that summer, you may remember I was taking care of our daughter, Carolyn, following her hip surgery. I decided this cooking challenge would be a fun way to keep myself entertained. As it turned out, not only was I entertained, all of you were too as I rated each recipe as DeeLish, DeeNot, or Dee-You-Can-Call-Me-Maybe! Unlike the Rock Salt Shrimp, which was a DeeNot ever again, these Salmon Kebabs were a huge DeeLish and have remained a family favorite. Serve with fresh vegetables seasoned with McCormick Mediterranean Spiced Sea Salt. If you're having trouble finding this seasoning, see Monday's Instagram post for suggestions.
With gratitude,
---
Salmon Kebabs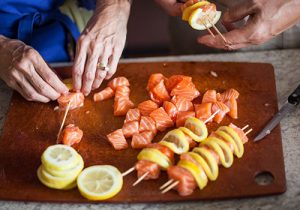 Serves 8             Adapted from Bon Appétit
INGREDIENTS
4 tbsp chopped oregano
4 tsp sesame seeds
2 tsp ground cumin
2 tsp salt
½ tsp red pepper flakes
4 lbs skinless salmon fillet in 1-inch pieces
4 lemons, thinly sliced
4 tbsp olive oil
32 bamboo skewers, soaked in water 1 hr
DIRECTIONS
Mix oregano, sesame seeds, cumin, salt, and red pepper flakes in a small bowl to combine. Set spice mixture aside.
Thread salmon, alternating with folded lemon slices, onto 16 pairs of skewers to make 16 kebabs, beginning and ending with salmon. Brush kebabs with oil and cover with spice mixture.
Grill approx 5–7 min over medium heat, turning occasionally.
DEEDEE'S NOTES
Salmon can be prepped prior to guests arriving. Cover and chill.
Using two skewers for each kebab keeps them from flipping on the grill. Watch the cook time carefully so not to overcook and dry out the salmon.
You may use this recipe with whole salmon fillets. Grill approx 5 min each side.
---
Become a Member of the Effortless Entertaining Community
---