Easy Chicken Soup – No Recipe Needed!

DEAR FRIENDS,
Last week I said the weather wasn't feeling like winter. This week it seems winter roared in everywhere … well, except in the Bahamas where I am writing this newsletter. I know, it's not that nice of me to be talking about our sun and sand, while you're wearing your parkas. I am thinking of you though, and I'm betting you will love this simple Chicken Soup, especially if the winter weather has also brought winter sniffles. Like last week's Roasted Vegetable Soup, no recipe needed. Although I have provided a list of ingredients, you really can eyeball these ingredients and adjust as you would like.
For upcoming games, serve this soup or last week's Roasted Vegetable Soup with Grilled Pimento BLTs. Of course, the EE's Chicken Chili, page 252, and Brunswick Stew, page 244, are always crowd-pleasers. Score one for the fans!
Enjoy!
Follow EE on
Instagram and Facebook
---
Chicken Soup
INGREDIENTS
1 roasted chicken – plain or seasoned*
1 cup chopped onion
1 cup sliced carrots
1 cup sliced celery
8 cups chicken broth
1 cup chopped flat-leaf parsley
Butter or olive oil
Salt and pepper
Egg noodles, optional
Sauté onion, carrots, and celery in 1-2 tbsp olive oil or butter until onion is tender.
While roasted chicken is still warm, pull chicken from the bone into bite-size pieces. Add to vegetable mixture.
Add chicken broth and parsley. Season with salt and pepper to taste. Add any other seasonings you might like such as thyme, tarragon, McCormick's Mediterranean Spiced Sea Salt, or Yah's.
If you'd like noodles, add at the end.
*For the Roasted Chicken, the Provencal Chicken, EE page 231 makes this soup extra flavorful, but a grocery store roasted chicken works just fine too.
Freezes well.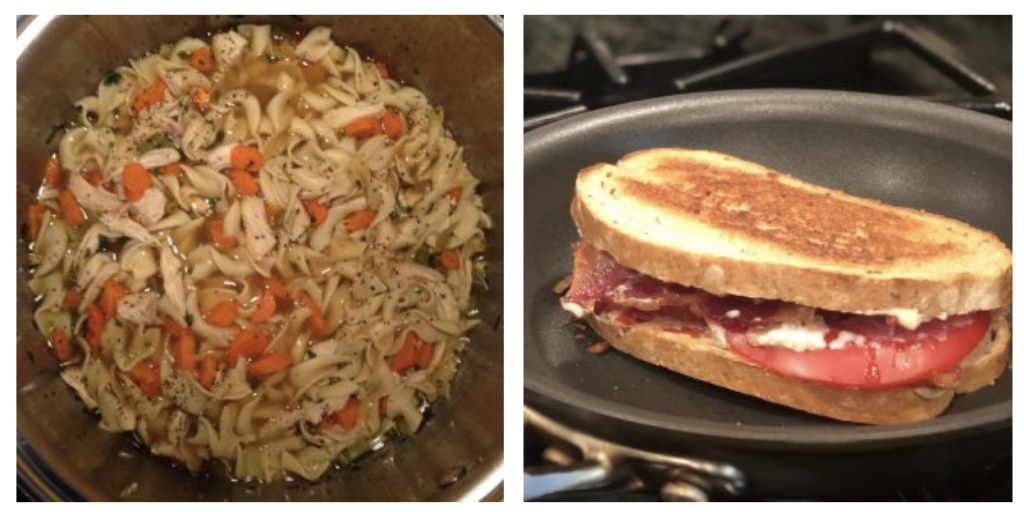 ---
---