Summer House Guest Dinner … yes! House Guests!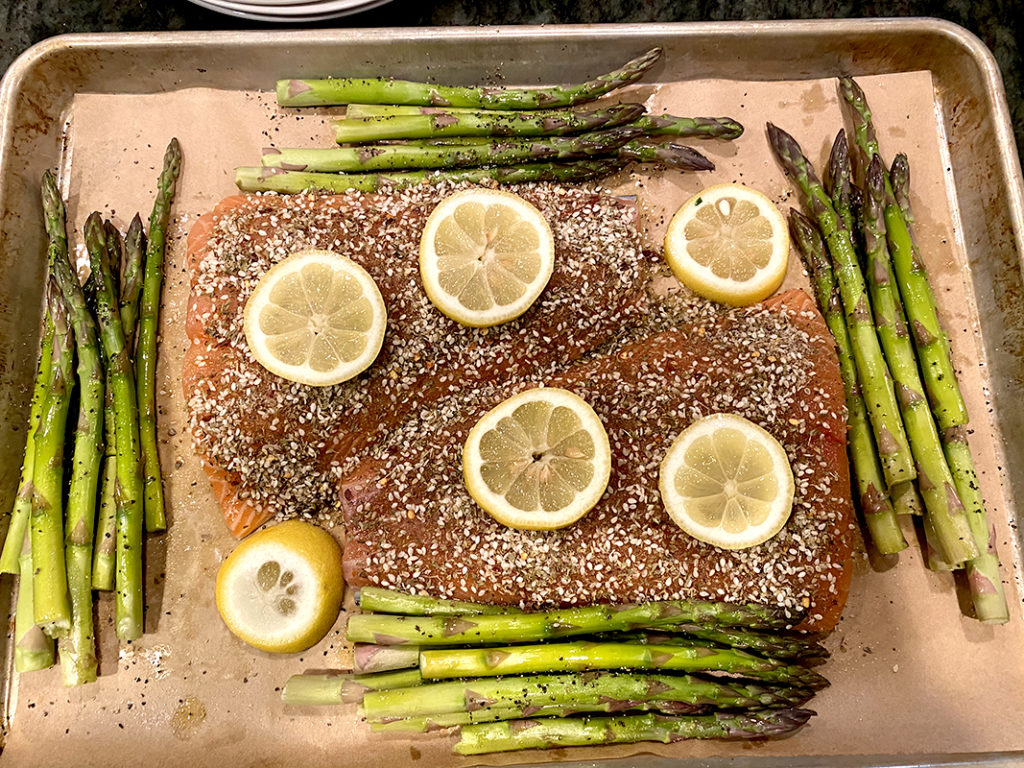 Dear Friends,
House Guests … you heard me! Yes, we had houseguests!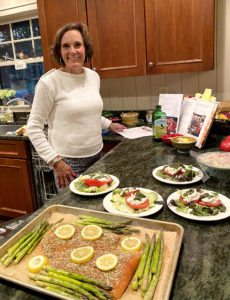 Maybe you're like us and everything you thought you were going to do this summer has been canceled. Weddings, Member Guest Golf Tournaments, House Party Weekends, and the list goes on. For about two months the only people in our home were our children and their SO's. Then, we started having dinner with friends — small, safe, and outside if possible. Last week we took an even bigger step. In lieu of the canceled Ladies Member Guest at Grandfather, I invited my three guests to come anyway. It was crazy fun! And yes, a bit of a calculated risk that we were willing to take.
Everyone had their own room. We enjoyed a girls' dinner at home the first night, played golf the next day with a little cocktail Canasta during a rain delay 😊, and then enjoyed dinner at good friends Leslie and JR's that night. They skedaddled the next morning and so far, so good. No reports of any COVID exposure or outbreak among us. To be with good friends was such a gift … to linger on the porch for coffee, stay up for an after-dinner drink, and best of all, lots and lots of overdue catching up.
Maybe you're not ready for overnight guests. Some of you aren't ready for dinner guests. Whatever your situation is, you will enjoy this summer menu. It's a winner and yes, you know it … it's effortless! In this menu and the video, you'll also find recipes from two great cooks I'm reading this summer, Frances Schultz, California Cooking and Southern Style, and Alex Snodgrass, the Defined Dish. I've read both cover-to-cover and marked all the things I want to cook. Thanks to daughter Elizabeth who has cooked for us from the Defined Dish during COVID, we've already enjoyed many of the wonderful recipes in this book.
So, whether for your home folk, dinner guests, or even out of town guests … enjoy!
A few things to consider if entertaining houseguests … 
Try to entertain outdoors if possible, as we know this is safer. If your climate is warm, consider a few fans to move and cool the air. Take care of bugs. Even if you're not sensitive to mosquitoes, assume your guests are. Spray before your guests arrive or use organic repellents.
Set a table that allows comfortable spacing or use trays making sure everyone has enough personal space.
Serve plates rather than a buffet. Consider individual hors d'oeuvre plates for each guest or couple.
Keep antibacterial wipes or spray where guests can access.
Place antibacterial soap and paper guest towels in the powder room and guest baths.
Offer glass markers so everyone can put their names on their glasses.
Place a new, unopened box of soap in each guest shower.
Give each guest (unless married) their own room.
Continue to practice social distancing as much as possible.
Respect your guests' boundaries such as not holding hands during the blessing, sitting too close on sofas, etc.
From our home to yours,

Follow EE on
Instagram and Facebook
---
Menu
Pimento Cheese, of course!
Cucumber Spread 
Spicy Melon Soup
Tomatoes with Burrata and Salsa Verde
Roasted Salmon with Roasted Asparagus
and Lemon Tarragon Sauce
Tangy Corn and Tomato Salad
Lemon Bomb with Raspberry Sauce
---
Spicy Melon Soup
Serves 6        California Cooking and Southern Style, Frances Schultz
INGREDIENTS
4 cups (1-inch) cubed watermelon
2 cups (1-inch) cubed cantaloupe
2 cups (1-inch) cubed honeydew
1 serrano chili, seeded and chopped
1 lime, juiced
1 cup coconut milk or half-and-half
¼ cup chopped cilantro
2 tbsp chopped mint, plus extra for garnish
2 tbsp chopped basil, plus extra for garnish
½ tsp salt
DIRECTIONS
Place the melons, serrano, lime juice, and coconut milk into a blender or food processor. Blend at high speed for 30 to 60 seconds or until completely pureed.
Add the cilantro, mint, basil, and salt, and pulse 2 or 3 times to blend.
Chill completely for at least 1 hour and garnish with chopped herbs and small melon cubes.
DEEDEE'S NOTES
Recipe may be prepared 2–3 days in advance. Refrigerate.

Lovely served as a first course in a small dish with a spoon or as an hors d'oeuvre in a cocktail or shot class.
---
Tomatoes and Burrata with Salsa Verde
Serves 4
INGREDIENTS
SALAD
2—3 med tomatoes, sliced
1 8 oz container Burrata, sliced
1 bag Mixed Lettuces
SALSA VERDE
1 lg bunch Italian parsley
1 lg bunch basil leaves
10–15 mint leaves
2 garlic cloves, peeled
2 anchovies or 2 tsp anchovy paste
2 tbsp capers, rinsed
3 tbsp red wine vinegar
1 tsp Dijon mustard
Salt and pepper
¾ cup olive oil
1 sm red onion, finely diced
DIRECTIONS
Divide mixed lettuces on salad plates.
Top with sliced tomatoes and sliced Burrata.
Drizzle with Salsa Verde.
DEEDEE'S NOTES
Salsa Verde may be prepared several days in advance. Place in air-tight container and refrigerate. Bring approx ½ cup to room temperature or warm for a few seconds in the microwave.

Salsa Verde recipe will make more than you need for four people and can be kept refrigerated.

You may also plate on a platter as your salad for a dinner buffet.
---
Roasted Salmon with Asparagus and Lemon Tarragon Sauce*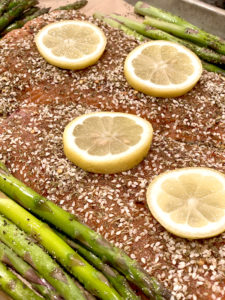 Serves 4
INGREDIENTS
24 oz Salmon, cut in pieces or all one piece
1 bunch asparagus
4 tbsp olive oil
Salt and Pepper
SALMON RUB
4 tbsp chopped oregano
4 tsp sesame seeds
2 tsp ground cumin
2 tsp salt
½ tsp red pepper flakes
2 lemons, thinly sliced
LEMON TARRAGON SAUCE*
2 tbsp lemon juice
½ cup mayonnaise
2 cloves garlic, minced
2 tbsp tarragon leaves, chopped
Salt and pepper to taste
*Lemon Tarragon Sauce is a recipe from The Defined Dish. See link in newsletter.
DIRECTIONS
Mix ingredients for Sauce and Refrigerate. Mix ingredients for Rub.
Place salmon on parchment paper covered baking sheet.
Surround with asparagus.
Toss asparagus with 2 tbsp olive oil, salt, and pepper.
Rub salmon with remaining 2 tbsp olive oil and top with Salmon Rub.
Arrange lemon slices on and around the salmon.
Bake at 400° for 10 min.
Serve with Lemon Tarragon Sauce.*
---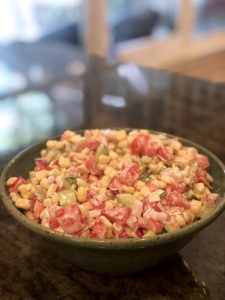 Tangy Corn and Tomato Salad
Serves 8 — 10   Adapted from Atlanta at Table, Frances Schultz
INGREDIENTS
3 med tomatoes, seeded and chopped
3 Persian cucumbers, chopped
3 cups shoepeg corn
1 red bell pepper, chopped
A jalapeño pepper, seeded and chopped
½ sm med purple onion, finely chopped
⅓ cup sour cream
2 tbsp mayonnaise
1 tbsp white wine vinegar
Salt and pepper to taste
DIRECTIONS
Spread the tomatoes and cucumbers on paper towel. Salt and let drain for 15 – 30 min. Pat dry.
Drain the corn and pat with paper towel to remove additional moisture.
Mix sour cream, mayonnaise, and white wine vinegar.
Toss with vegetables.
Salt and pepper to taste.
DEEDEE'S NOTES
Recipe may be prepared earlier in the day. It will also keep a day or two for yummy leftovers.
---
A few notes about the menu. Yes, I know you're seeing the Pimento Cheese, Cucumber Dill Spread, and Lemon Bomb a lot on my summer menus and for good reason. My guests love and they are super easy to prepare and have on hand.
With Frances Schultz's permission, I'm sharing the recipes for The Spicy Melon Soup from California Cooking and Southern Style and a slightly modified Tangy Corn and Tomato Salad from Atlanta at Table. Frances is a fabulous writer. I love everything she's written and you will too. To order her books, visit her website, FrancesSchultz.com.
To this day, Bee Cottage Story is one of my all-time favorites.
The Tarragon Sauce is from the Defined Dish. Although she also offers a Sheet Pan Salmon with this sauce, I am giving you my Roasted Salmon recipe. I am very inspired by Alex Snodgrass's healthy, Whole 30 approach (even though I'm always going to eat pimento cheese!). For this recipe and more, visit her website, TheDefinedDish.com: Spring Sheet Pan Salmon.
You'll notice with this menu, I'm mixing it up a bit by using a Salsa Verde from the Shrimp and Scallops with Salsa Verde, EE page 153, on the Tomatoes and the rub from the Salmon Kebabs, EE page 200, for the Roasted Salmon. This rub would also be great on other fish too. Go ahead … take a walk on the wild side … mix it up! 💃
---
SOURCES & RESOURCES
Fresh Express Bagged Salads
The only bagged lettuces I like!
Burrata and Mozzarella
You can usually find Burrata in the cheese case along with fresh Mozzarella, which also works fine for this recipe.