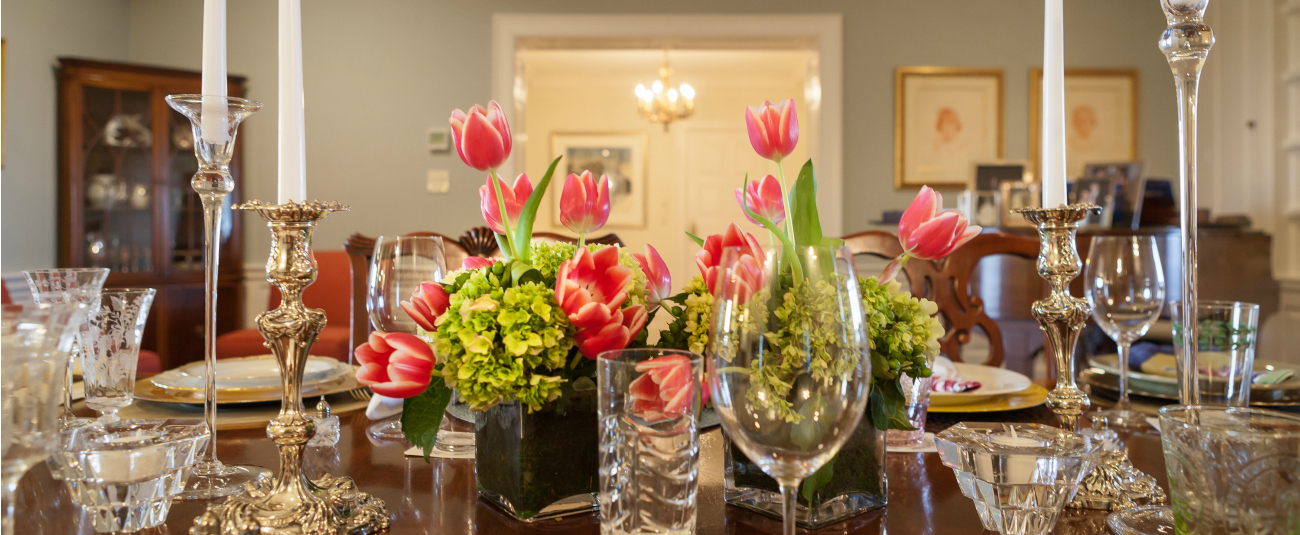 Three Parties, Four Days … you could do this!
Dear Friends, 
Three parties in four days can be effortless … in fact, entertaining friends "back to back" has several built-in economies.
Same flowers with a bit of touch-up.
Repeats in our place settings with placemats, dinnerware, glassware, flatware made setting the table each time super easy.
Repeats in our menus enabled me to shop, prep, and prepare in advance for all.
Items that were being used for the next dinner were washed and left on the table or kitchen counter. This kept me from having to put up and pull out again.
Stocked the bar kept it set up.
Examples
Pimento Cheese for Pimento Cheese Bites – made enough Pimento Cheese for both.
Asparagus and Peas – prepped for both dinners.
Rice Blend and Rice Salad — prepared enough rice for both dinners.
Salsa Verde — prepared enough for both dinners
Whipped Cream made enough for Turtle Pie and Fruit
Prepped several ingredients used in multiple recipes such as red onion, shallots, and lemon juice.
A few more tips …
Pimento Cheese — double the recipe and use a food processor. Store in half-pint containers to share with friends. You can also freeze.
Sausage and Egg Casserole — double the sausage mix and freeze for the next time.
Sheet Pan Salmon — double or even triple the rub. Keep in your cabinet for the next time For my dinner I made this recipe without roasting the asparagus since I wanted to serve the Asparagus and Peas.
Salsa Verde and Tarragon Sauce — make extra, keeps well in the frig. We use the Salsa Verde on everything!
Whipped Cream takes approximately 2 min to make in a food processor, and it's far more stable in the frig. No need to make whipped cream right before serving!
Finally, the thing I hear from so many of you is the time it takes to fluff your home … straightening up, clearing the clutter, etc. One and done for all three gatherings!
Do you want gathering your friends to be as easy for you as it is for me? Join me for the next workshop starting on April 18th. Let's get ready for spring and summer entertaining! Register here!
From our home to yours,

Follow EE on
Instagram and Facebook
---
Enjoy these easy prep and prepare menus!
SHEET PAN SALMON MENU
SAUSAGE AND EGG CASSEROLE MENU
BEEF TENDERLOIN MENU
Feta with Olives served in Oven to Table Pampa Bay
Pimento Cheese Bites

Tarragon Sauce
and Salsa Verde
---
Join us for the next
30 Days to Effortless Entertaining!
We'll meet twice each week for four weeks from my home, once by videos that you may watch at your convenience, and once on Thursdays in a live session at 3:00 pm.
Yes, there will be a little homework! It won't be hard, and it will even be FUN!
Our next workshop starts on April 18th.
Once you participate in a workshop, you will always have access to your workshop videos and new videos that we add.
---