Making Muffins … effortlessly!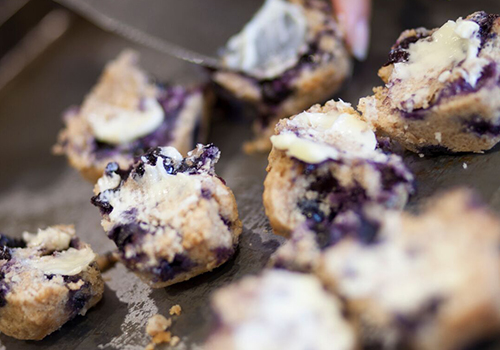 Dear Friends,
Just in time for fresh blueberries, my favorite Blueberry Muffin recipe, and video with a quick tip from our sweet friend Forest Richardson for making muffins! The recipe from good friend Hester Hodde is easy enough to whip up and bake while you prepare the rest of your breakfast. These are a staple in our home. As I prepare for houseguests this weekend, I'll be making a batch. As many of you know, I'm a DIY breakfast girl, which is why being able to prepare these advance and freeze is also a help. We especially like to cut in half and heat with a little butter. Oh my!
From our home to yours,

Follow EE on
Instagram and Facebook
---
Blueberry Muffins
Serves 12                     Hester Hodde
INGREDIENTS
1 cup white flour
1 cup whole wheat flour
1 cup sugar
2 tsp baking powder
½ tsp salt
½ cup butter, melted
½ cup milk
1 egg
1 tsp vanilla
2 cups blueberries
½ cup pecan pieces, optional
DIRECTIONS
In medium bowl, combine white flour, whole wheat flour, sugar, baking powder, and salt. In separate bowl, mix butter, milk, egg, and vanilla. Pour egg and butter mixture into dry ingredients. Mix.
Add 2 cups blueberries and pecans, optional.
Pour into greased muffin pan or muffin pan lined with muffin cups. Bake at 400° for 20 min.
DEEDEE'S NOTES
• Recipe can be prepared 2–3 days in advance and stored in the refrigerator. Warm prior to serving.
• Recipe is so easy, muffins can be whipped up the morning of your brunch.
• Freezes well.
PRINTER-FRIENDLY RECIPE | PRINTER-FRIENDLY NEWSLETTER