Table Top with Paysage – Join us for Dinner!

Dear Friends,
In today's video created in collaboration with Paysage Home, we're talking Table Top! Even though I love setting a special table, whether causal or formal, it's not meant to impress our guests, but to make them feel special.
This summer we will only be gathering with our closest family and friends. Most likely, these occasions will be small, casual, and if possible, outdoors. My hope is that even with the changes in lifestyle we are experiencing, we can still make each gathering special. Enjoying dinner together is a gift. We slow down, we give thanks, we talk, we listen, we linger and enjoy each other's company. Setting a table that says, "you and our time together are special" doesn't require great expense or tremendous effort. With a little thought and with a few things on hand it can be … effortless! 
There are so many ideas we could share about the table top, but as with our other videos, we just can't cover it all! I hope you find the ideas inspiring and the information helpful. I also hope that you're finding that Paysage and Gigi's team can be an invaluable resource. Whether you're shopping Paysage in their stores or online, their team is so talented and they are eager to help you find just what you need.
In this newsletter, we've included another EE favorite … Lawdashion's Pork Tenderloin, also on page 191 for those who have Effortless Entertaining. It is sure to please, even wow your family and friends! Shared by good friend Donna Lawhon, who I hope I'll be seeing soon as we gather in small and safe groups this summer in our beloved North Carolina mountains, it will become one of your favorites too!
Even though we have completed our video series with Paysage, I look forward to sharing more inspiring ideas and practical tips in our EE videos, The Dish newsletter, and through our social media. While our lives have been dramatically altered, I hope to help us cherish the things we love while finding new approaches. Maybe Gigi will make a few cameo appearances as I know how much you all love her! I'll also continue to feature a few of my favorite things from Paysage … Poet lamps, Scott Summerfield's pears, and more!
I've enjoyed this time with Paysage and you, and I look forward to more "virtual" gatherings … from our home to yours. 
With gratitude,

Follow EE on
Instagram and Facebook
---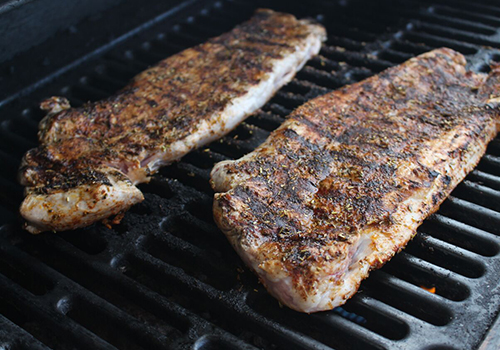 Lawdashion's Pork Tenderloin
INGREDIENTS
MUSTARD GLAZE
1 clove garlic
½ tsp salt
1 tsp pepper
¼ cup Dijon mustard
1 tbsp soy sauce
1 tsp dried thyme
Grated zest of 1 lemon
Juice of 1 lemon
⅓ cup olive oil
PORK
2 pork tenderloins, 1 pkg
2 tbsp Herbes de Provence
1 tbsp paprika
½ tsp salt
½ tsp ground pepper
2 tbsp olive oil
DIRECTIONS
Combine all ingredients for glaze, except olive oil, in blender. With blender running, gradually add the olive oil in a thin stream to make a thick sauce.
Mix Herbes de Provence, paprika, salt, and pepper.
Place tenderloins on a large baking sheet. Make a deep slit lengthwise down each tenderloin, but don't cut all the way through. Open up the slit and flatten each tenderloin between two sheets of plastic wrap with a meat hammer.
Coat tenderloins with herb mixture. In a large skillet, heat olive oil. Brown pork quickly on each side. Return tenderloins to baking sheet.
Pour glaze over pork. Roast at 350° for approx 15–20 min until pork reaches 145–150°. Let rest 5 min.
DEEDEE'S NOTES:
You may prep the pork with the herb rub and prepare the glaze earlier in the day or 1 day in advance. Cover and chill. Bring to room temperature to cook.
Once the pork is seared, it needs to go straight to the oven. Once you start cooking pork, you must continue until it's done.
You may sear on the grill.
Increases well.
Printer-Friendly Recipe | Printer-Friendly Newsletter
---
Table Tops!