Amaretto Cheesecake
Dear Friends,
Amaretto Cheesecake is the fabulous dessert our family enjoys every Christmas Eve and throughout the winter months. This crowd pleaser is super easy and truly impossible to mess up!
The recipe was shared by Tommi Jones, who was the VP, Human Resources at Jefferson-Pilot Communications, where I enjoyed a wonderful career. Tommi broke glass ceilings as the first female VP, and she was a respected leader and mentor to many. One of Tommi's good friends was Jack Bowden, who owned the Blair-Bowden house in Charlotte, and he shared this recipe with her. Tommi and Jack are no longer with us, but they each left a legacy of kindness and friendship that I remember whenever I serve this fabulous dessert. Remembering all those who have gone before us and whose legacies continue to bless us at this special time of year!
Merry Christmas from our family to yours!
---
Amaretto Cheesecake
Serves 12                     Jack Bowden
INGREDIENTS
CRUST
1 pkg + 4 crackers cinnamon
graham crackers, ~½ 14.4 oz box
1 stick butter, melted
¼ cup sugar
FILLING
4 8-oz pkgs cream cheese, softened
1½ cups sugar
1½ tbsp fresh lime juice, ~1 lg lime
1 pinch salt
4 eggs
TOPPING
1 pint sour cream
¼ cup sugar
1 tsp almond extract
DIRECTIONS
Crust
Using a food processor, finely crumble crackers. Mix with melted butter and sugar. Line bottom and sides of 9-inch springform pan with crust. Place in refrigerator.
Filling
In a mixer combine cream cheese and sugar. Add lime juice, salt, and eggs, adding eggs one at a time. Pour into crust. Bake at 350° for 45 min or until set and begins to brown. Remove from oven and let stand 10 min.
Topping
Combine sour cream, sugar, and almond extract. Spread on top of cheesecake. Return to oven for 10 min.
Place cheesecake directly into refrigerator from oven, uncovered for 4-5 hrs. Cover and chill.
DEEDEE'S NOTES
Recipe may be prepared 4-5 days in advance. Cover and chill. Remove from refrigerator approx 30 mins-1 hr before serving.
When baking, place sheet pan under springform pan – butter can leak from pan.
Freezes well.
---
TIPS & QUIPS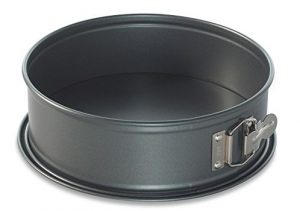 Springform Pan | available here
---
---
---