Chocolate Bundt Cake

Dear Friends,
Who doesn't ❤️ a little chocolate for Valentine's, Galentine's, or any other day for that matter! Carolyn Gaskin shared this Chocolate Bundt Cake recipe years ago when our children were in play group. True confessions … cake is not one of my favorite desserts and I'm not a great cake maker. I love this cake though!  It is so ridiculously chocolaty (that is a word!) and overcomes my limited cake baking skills. Dress it up a little for love day with a few raspberries or strawberries in the middle and drizzle with chocolate sauce. All of your loves will love it!
With ❤️ and gratitude,
---
Chocolate Bundt Cake
Serves 12–16                    Carolyn Gaskin
For Valentine's Day drizzle with Chocolate Fudge Sauce and raspberries in the middle!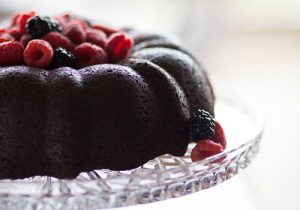 INGREDIENTS
CAKE
1 15.25-oz box chocolate cake mix
1 3-oz pkg instant chocolate pudding
½ cup sugar
¾ cup vegetable oil
¾ cup water
4 eggs
8 oz sour cream
6 oz mini chocolate chips
2 tbsp dark rum
Chocolate sauce, optional
Blueberries, raspberries, blackberries, optional
DIRECTIONS
Mix cake and chocolate pudding mixes. Add oil and water. Mix.
Beat in eggs one at a time. Add remaining ingredients. Grease the bundt pan and pour batter into pan.
Bake at 350° for 50–60 min. Cool.
To serve, remove cake from pan to slice. You may top with chocolate sauce and fill with center with berries; both are optional.
DEEDEE'S NOTES
Recipe may be prepared earlier in the day or 2–3 days in advance. Cool completely and cover. Add chocolate sauce and berries prior to serving, optional.
For chocolate sauce, I recommend Stonewall Kitchen, plain or one of their flavored sauces. To make your own, see Basics.
For an extraordinarily moist cake, I recommend Duncan Hines Decadent Triple Chocolate Cake Mix. Add all three packets from the cake mix to the Bundt Cake recipe.
---
CHOCOLATE SAUCE 
YIELDS ~2½ CUPS               Adapted from Cook's Country
10 oz semisweet chocolate, chopped
2 tbsp butter, cut up
¾ cup light corn syrup
⅓ cup sugar
⅓ cup heavy cream
⅓ cup water
Pinch salt
1 tsp vanilla extract
DIRECTIONS
In a double boiler or microwave, melt chocolate and butter.
In a small saucepan, simmer corn syrup, sugar, cream, water, and salt, stirring frequently for approx 4 min. Cool mixture for approx 2 min. Whisk in chocolate mixture and add vanilla.
Serve warm.
DEEDEE'S NOTES
Recipe may be prepared earlier in the day or up to 2 weeks in advance. Chill in airtight container. Warm to serve.
---
Become a Member of the Effortless Entertaining Community
---