Game Day
Our family is always ready for some football! We are Carolina Panthers fans, and for years our tailgates have been organized by a self-proclaimed Executive Committee and supported by countless others through annual financial contributions. During the holidays, when everyone's families are in town, the size of our tailgate can swell to 100+ family and friends.
Although the Executive Committee has risen to every occasion, they have discovered a better way to skin this cat, so to speak. Two years ago, they hired Sam Hart, an outstanding graduate from the Culinary School at Central Piedmont Community College. In addition to having launched Laughing Duck Catering, Sam is also a cook at Foxcroft Wine Co. and Dot Dot Dot Speakeasy. Initially when our Executive Committee hired Sam, they shared the food prep responsibilities. When Chef Sam offered to "do it all," they very wisely said, "Absolutely!"
The Lot L Tailgate partnership with Chef Sam is a great example of choosing to let someone else do what we sometimes feel the need to do ourselves. Though they were reluctant to let go, the Executive Committee agrees that "we are enjoying a much-improved culinary experience." EE's advice for this month is to know when to call in the experts and to be willing to let others share in the expense. If, however, you want to give Chef Sam's menu a go, see his recipes below, along with a few new recipes from EE.
We have also included a bonus this month. In addition to his recipes, Sam has provided a lesson in how to cook sous vide. Ed and I have been intrigued by this method of cooking and are excited to try it. I hope you will be, too. It might sound scary or hard, but it's remarkably . . . effortless!
---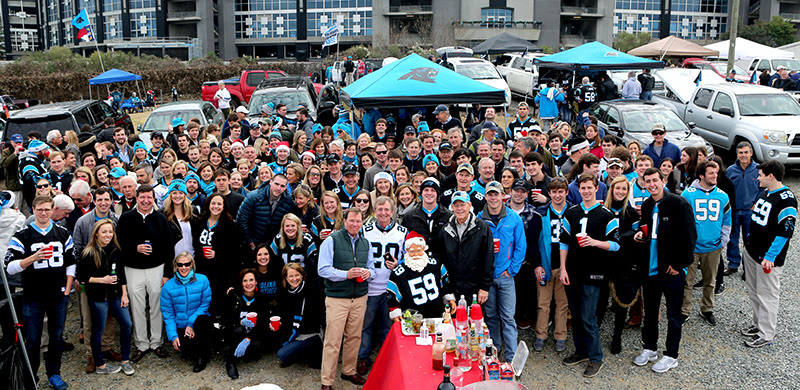 ---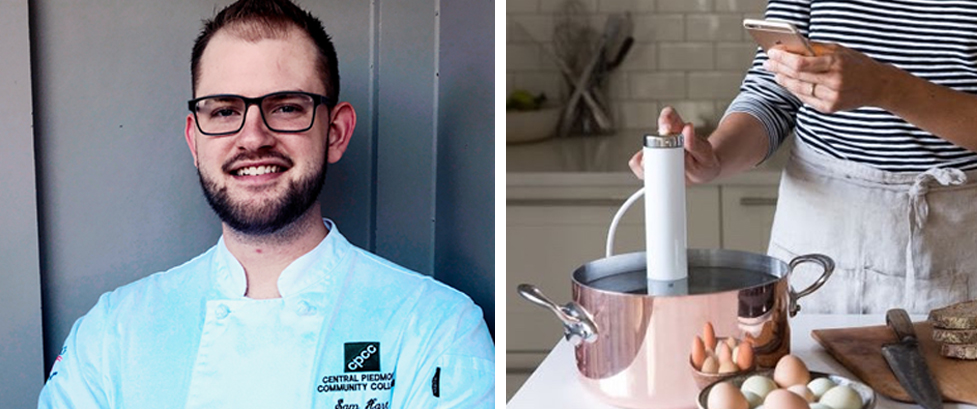 Sous Vide
by Chef Sam Hart
Sous vide (soo-VEED; French for "under vacuum") may seem scary to home cooks, but it doesn't need to be! There is not an easier, tastier, quicker, or safer way to impress your family and friends with great food than when you know how to sous vide.
The process is simple. Vacuum-sealed food is submerged into a water bath at a specific temperature (lower than other cooking methods) and cooked for a longer period of time, so that food retains 100 percent of its flavor and moisture while perfectly hitting the desired temperature.
To sous vide, you need three pieces of equipment.
An immersion circulator — My personal favorite is the Joule, which can be operated via your phone and will stay connected while you are out of the house. It also has hundreds of recipes pre-logged into its phone app.
A vacuum sealer — I recommend the Food Saver, available at any big box store.
A large container to put water in — I personally use a plastic tub, as plastic is naturally an insulator, so your circulator doesn't have to work as hard keeping the water hot.
Quickly, let's go over how a Joule looks and operates. The Joule is a long cylinder that looks like it might have landed from a spaceship. It has a button on the top and a bright-orange rubber pad on the bottom. The top piece is, you guessed it: the power button. The bottom piece is where the water from your bath is sucked up by a small turbine inside the tube. It is then heated with a coil and sent back out through the small rectangular hole on the front of the cylinder.
Now let's cook your favorite recipe! Whether that's beef tenderloin, brisket, pulled pork, glazed carrots, soft-boiled eggs, or even Hollandaise sauce! Pull up your ChefSteps-Joule app, or go online to Annova, ChefSteps, Food & Wine, or any of your favorite sites and find a recipe.
Next you need to check for three things. If any of these three are not met, do not cook: 1) a complete and strong seal on the vacuum sealed bag, 2) water deep enough for your bag to be completely submerged, 3) and enough water to cover the hole near the bottom of the Joule that cycles the hot water back out. Set the timer and temperature on the app, and select "let's cook."
During the cooking process, make sure there is always enough water. When you get into some 12+-hour cooks, this is a must. Finally, when your product is cooked, you can either serve it right away or put it in an ice bath to cool it down as quickly as possible before putting into the fridge.
On the brisket recipe included in this menu, you will create a "bark" on the meat by using a traditional cooking technique after the sous vide process is complete.
---
Game-Day Menu
For our first home game, the Panthers hosted the Dallas Cowboys, so in honor of both teams, Sam served Texas-Style Brisket and Carolina BBQ Pork Butt. Whether you tailgate or watch the games at home, or even if you're not a football fan at all, this menu will satisfy any group for any occasion.
Cowboy Sunrise Cocktail*
Pimiento Cheese*
Texas-Style Brisket – Sous Vide*
Carolina BBQ Pork Butt*
Fiesta Black Bean Salad*
Game-Day Brownies*
* new recipes
Printer-Friendly Menu, GamePlan & Recipes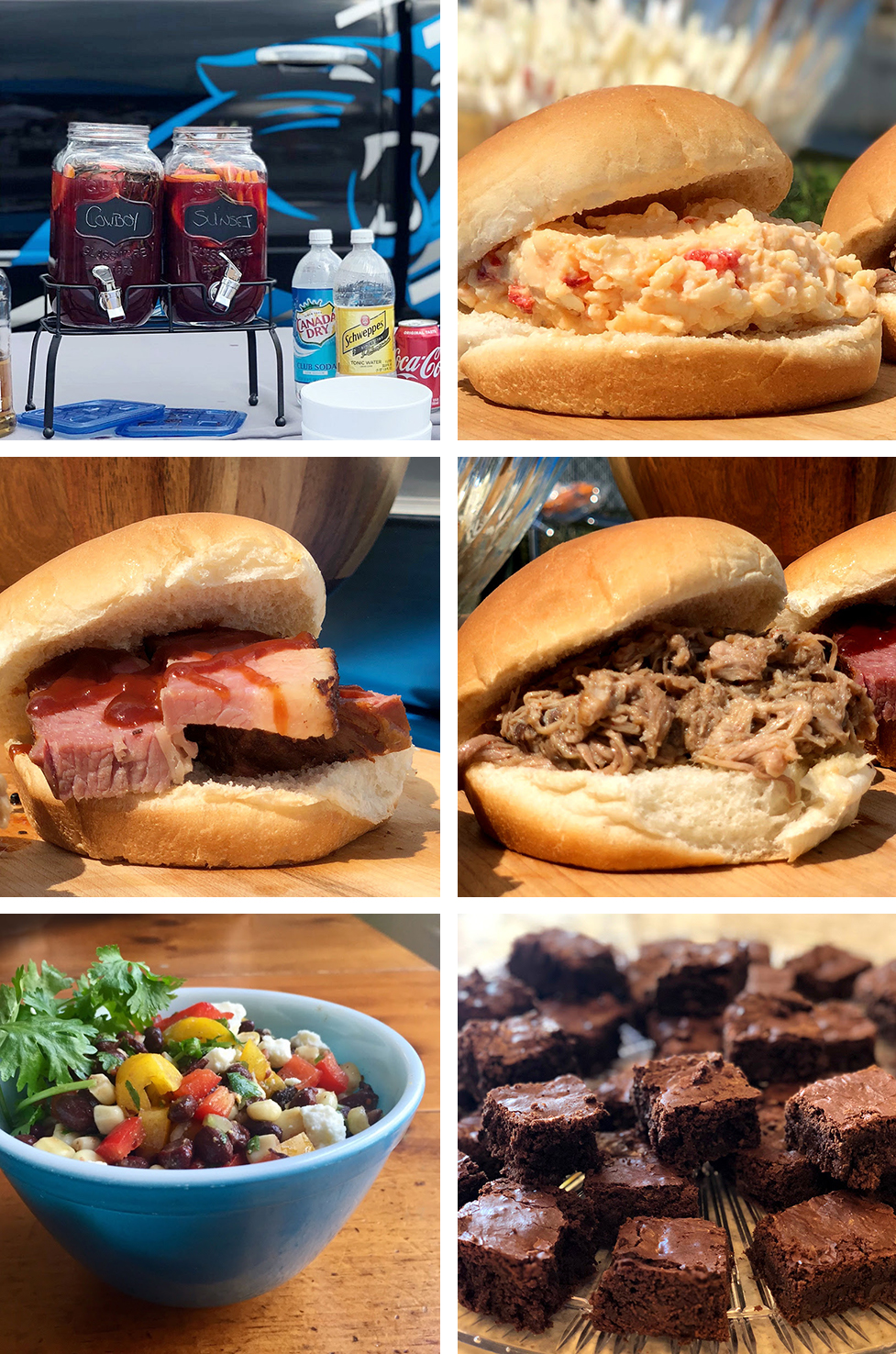 ---
Style Points
SCOUT BAG, ERRAND BOY EXTRA-LARGE TOTE
Pack for your tailgate in style with Scout Bag totes. For larger items, keep the Errand Boy Extra-Large tote stocked during football season with bulkier game-day essentials — paper towels, trash bags, napkins, plates. When not in use, the totes collapse for easy storage.  available here
SCOUT BAG, BJ POCKET TOTE BAG
Add this smaller Scout Bag tote with pockets for smaller items — cooking and serving utensils, plastic forks, spoons, lemons, limes.  ​available here
FROSTED FLEX CUPS
Our game-day frosted flex cups for Lot L are provided by our good friend Greg Golden with FP Fletcher & Associates. I have found that similar cups can have a rough edge, but not the ones we order through Greg. Seen here is the standard 16-oz size. A few years ago Ed surprised Dalrymples across the state with a sleeve of cups bearing the family crest for Christmas! It's not too early to think about fun gifts for your family!
Greg Golden, FP Fletcher & Associates 919-402-9765  wmgreggo@gmail.com

---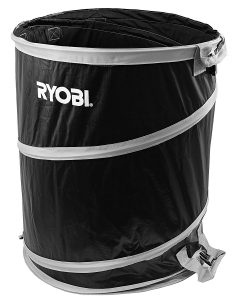 TIPS & QUIPS
Enjoy style and function with collapsible trash containers.
Ryobi 40 Gallon Collapsible Reusable Garden Bag
---
SOURCES & RESOURCES
To cook sous vide, Chef Sam recommends the following equipment — all reasonably priced and reliable.
ChefSteps Joule Sous Vide
available here
Rubbermaid 12-Qt Container
available here
Sous Vide Container Sleeve
available here
The Food Saver
available here

---
We want to hear from you!
We love hearing how much you enjoy Effortless Entertaining.
Send us comments and photos!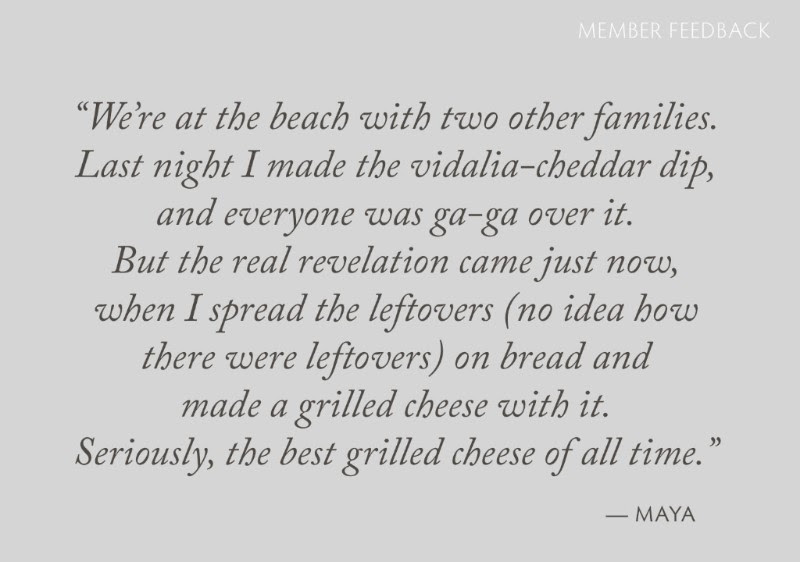 ---