Our Dalrymple Eggnog Recipe
Merry Merry, from our home to yours! In this Dash, the Dalrymples want to share our family eggnog recipe, which we consider a holiday, and quite possibly a national, treasure! Trust me when I say . . . you may never buy eggnog in a carton again. This is a Dalrymple family tradition passed to us from Ed's mother, Jane. Everyone gets in on the action – making, tasting, and drinking. We will make this recipe many times during the holidays and hope you will, too! Our family wishes yours a blessed holiday season as you . . . open our hearts, open our homes, and give the gift of hospitality.
— DeeDee and Ed, Elizabeth, Carolyn, Eddie, and Putter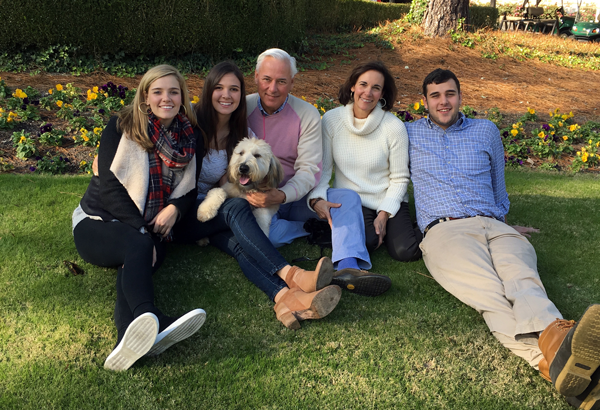 Jane's Eggnog
Serves 10
INGREDIENTS
12 eggs
1¾ cups sugar*
1 pint+ whiskey
½ pint+ brandy
½ pint+ rum
1 qt whipping cream
1 qt half and half
*we have reduced sugar from original recipe
INSTRUCTIONS
Separate eggs, with yolks going into large mixing bowl and whites going into bowl of stand mixer.
Add sugar to yolks and mix with immersion blender.
Slowly add whiskey, brandy, and rum into yolks and sugar. Mix with immersion blender until creamy. This is where the tasting begins – I can still remember Jane, Ed, and his brother Chris standing around the mixing bowl tasting, adding, and laughing! That tradition continues. 
Add 1 qt whipping cream – not whipped. Mix.
Whip egg whites in stand mixer until stiff.
Gently fold whipped egg whites into egg yolk mixture. The mixture will be slightly lumpy.
Add half and half. Stir.
You may keep for 2–3 days in refrigerator or freezer. It won't freeze – too much alcohol!
Serve in silver or pewter cups or old-fashioned glasses. Top with nutmeg.
Enjoy! 
RECOMMENDED EQUIPMENT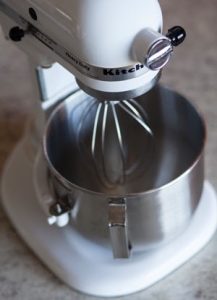 Stand mixer or hand mixer, available at large department or kitchen stores.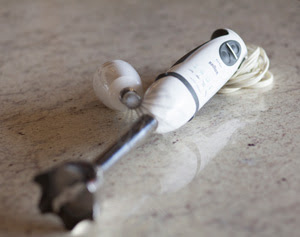 Immersion blender, available at large department or kitchen stores.
One large (8-10 qt) mixing bowl –this is the type of bowl we use.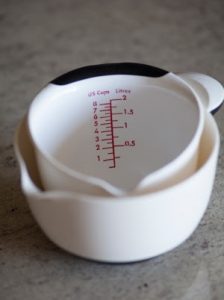 One medium mixing bowl – OXO is our favorite.