Dear Friends,
If you're looking for one more wonderful side for your Easter menu or you're just looking for a fabulous fresh vegetable mix, let me present Cornelia Hoover's Asparagus and Peas with Basil. We shared this with the EE community last spring as part of Cornelia's Rack of Lamb Menu. See the full menu on the Blog. As with everything Cornelia does, the Asparagus and Peas recipe is fresh and lovely. Some of you may not like peas. I'm thinking of my sweet sister, Nikki who, when she was a little girl hid her peas from dinner in a Dutch wooden shoe on the window sill. I can hardly believe she had the nerve! So, if you don't like peas, you can just make this with asparagus. You can also easily adjust the ingredients to serve fewer people. Ed and I have already enjoyed this favorite three times this spring. I'm betting it will be one of your favorites too!
With gratitude,
---
Asparagus and Peas with Basil
Serves 8    Cornelia Hoover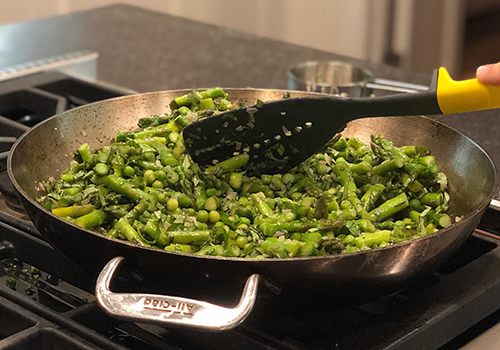 INGREDIENTS
½ cup finely chopped shallots
3 tbsp unsalted butter
3 lbs asparagus, trimmed and cut into 1-inch pieces
15-oz frozen peas, thawed 1 tsp kosher salt
Freshly ground pepper
1 cup torn fresh basil leaves
DIRECTIONS
Cook shallots in butter in a large, heavy skillet over medium heat, stirring frequently, until just tender, about 4–5 minutes.
Stir in asparagus, peas, salt, and pepper, then cover or seal skillet with foil. Cook over medium heat until vegetables are tender but still slightly al dente, about 8 min.
Stir in basil and additional salt to taste.
DEEDEE'S NOTES
Recipe may be prepped earlier in the day. Cook shallots prior to guests arriving. Keep at room temperature in the pan and finish with asparagus, peas, and seasonings prior to serving.
---
---
Become a Member of the Effortless Entertaining Community
---