Tuscan Bean Dip

Dear Friends,
Winter makes me want to cozy up with good friends for a casual dinner at home. Maybe you feel the same way too! This weekend I'll be serving Burgers, Seasoned Smashed Potatoes, Darren Atkins' Mixed Lettuces with Sherry Vinaigrette, and Katharine Hepburn's Brownies, with Talenti and Dee Marley's Chocolate Sauce. It's going to be so good! To start though, we will enjoy one of my all-time favorites, Tuscan Bean Dip inspired by Augusto Conte's Toscana and Luce restaurants.
From Our Home to Yours!
---
Tuscan Bean Dip
Serves 8–10              Adapted from Inspired Cooking, First Presbyterian Church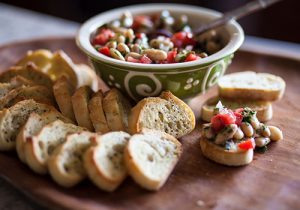 INGREDIENTS
2 15.5-oz cans cannellini beans, rinsed
2 bay leaves
½ cup diced red onion
4–5 Roma tomatoes, seeded and diced
1 tsp minced garlic
½ cup chopped basil
¼ cup chopped Italian parsley
½ tsp dried oregano
¼ tsp red pepper flakes
½ tsp salt
½ tsp pepper
1 cup olive oil
1 baguette, sliced and toasted
DIRECTIONS
Combine all ingredients.
Marinate at room temperature for at least 2 hrs.
Serve with sliced baguette.
DEEDEE'S NOTES
Recipe may be prepared a day in advance or 2–3 days+ in advance. Cover and chill.
If preparing more than a day in advance, add the tomatoes on the day you are serving. Bring to room temperature to serve.
You may rub baguette slices with olive oil and toast.
Increases well.
---