Get Fancy with Fancy Panz

Dear Friends,
Tailgaters and other Foodtakers! You know who you are … always taking something yummy to share for the tailgate or casual pot luck dinners!
I've found just the thing to make sharing much easier and more attractive. Fancy Panz!  Don't you love the name? You're going to love the panz even more. The Good News Shop at Christ Church in Charlotte introduced Fancy Panz in an Instagram post. Typically, I would have rushed right over to the GNS and bought them – I love to shop local. However! I was in the mountains and wanted these fabulous panz right away, so I went to FancyPanz.com and ordered them there. You simply drop your not so attractive aluminum roaster/casserole into the Fancy Pan and voilà … it's transformed into a delightful casserole dish. I'm hoping Fancy Panz will make these for the behemoth size roasters I use when serving ribs to the masses during football season or next July 4th!
If you visit FancyPanz.com, you will find better photos and more ideas. So, Charlotte friends, please dash over to the Good News Shop. EE friends in other cities, I bet you can also shop local or, you can shop online. Be sure to follow @fancypanzz and @thegoodnewsshop on Instagram!
Follow EE on
Instagram and Facebook
---
Sources & Resources
Wow family and friends with Fancy Panz at your next tailgate or potluck!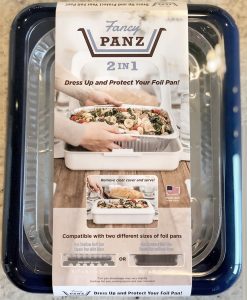 ---
---
---