Smashed and Smothered Potatoes! 😍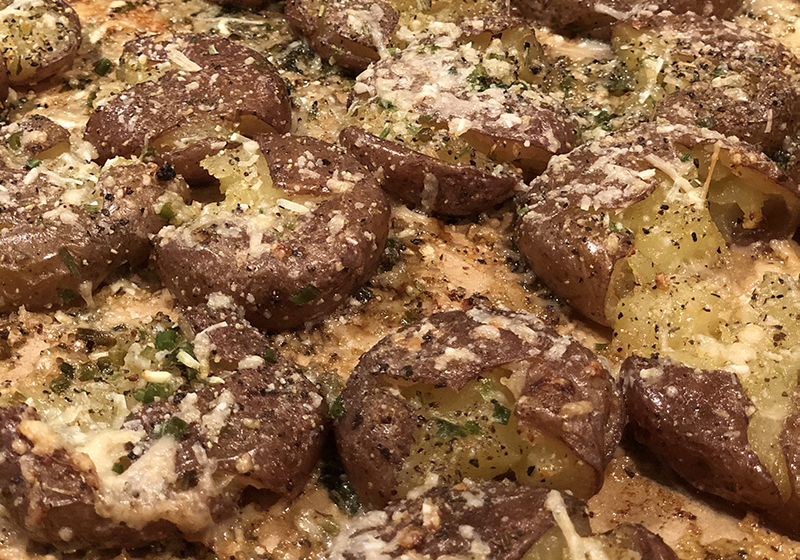 Dear Friends,
Yes, I know potatoes are starchy and high carb and that they metabolize into sugar. And yes, green leafy vegetables are healthier. I just can't help it! Sometimes we must have potatoes … and if you're going to indulge, then I say don't hold back. Just go on and smother some crispy roasted potatoes with butter and Parmesan cheese!
Smashed Potatoes are the perfect side for burgers, grilled fish, steaks … well, just about anything. Make sure you prepare enough for everyone to have seconds!
From our home to yours,

Follow EE on
Instagram and Facebook
---
Smashed Potatoes
Serves 8
INGREDIENTS
2 lbs new small potatoes – any variety or a mix
4 tbsp olive oil
1 tbsp McCormick Mediterranean Spiced Sea Salt*
½ tbsp freshly ground pepper
½ tbsp dried chives or 1 tbsp fresh chives
¼ cup melted butter
½ cup grated Parmesan cheese
* You may substitute with other seasonings.
DIRECTIONS
Boil potatoes for 15 min until tender. Drain.
Lay on parchment covered baking sheet. Toss with olive oil and smash.
Season with McCormick Mediterranean Spiced Sea Salt*
Roast at 400° for 25 min.
Add melted butter, chives, and Parmesan cheese. Roast 5 min.
DEEDEE'S NOTES
Recipe may be prepared earlier in the day. It will also keep a day or two for yummy leftovers.
---
Sources & Resources

McCormick Mediterranean Spiced Sea Salt (Culinary Size)
McCormick no longer sells this "retail", i.e. in our groceries, but you can purchase the culinary size online.
It's worth it as it's such a versatile seasoning. I'm also always sharing with family and friends.