Spinach and Ricotta Pie
Dear Friends,
So many of you have raved about the Italian Pie! One person has already made it four times! Given how much you all liked that pie, I thought I would remind everyone of another EE favorite …. the Spinach and Ricotta Pie, page 216. It has been a long-time favorite! Just like the Italian Pie, it's so easy to prepare in advance and freezes well. It also increases well. I can't count the number of times I have served this pie for brunches and luncheons … also great for weeknight dinners too.
Who knew you all loved savory pies so much!
Enjoy!
---
Spinach and Ricotta Pie
Serves 6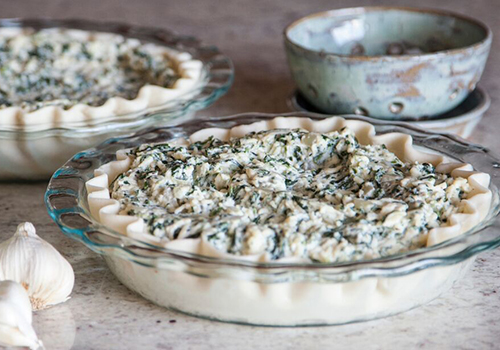 INGREDIENTS
1 refrigerated pie crust
3 tbsp butter
1 med onion, chopped or 1 cup pkgd chopped
1 10-oz pkg frozen chopped spinach, thawed, squeezed dry
½ tsp salt
½ tsp pepper
¼ tsp ground nutmeg
1 15-oz container ricotta
8 oz mozzarella, shredded
1 cup shredded Parmesan
3 eggs, beaten to blend
DIRECTIONS
Lay out pie crust, lightly flour. Place crust floured side down in 9-inch pie dish. Fold edge under and crimp decoratively.
Melt butter in large skillet over medium heat. Add onion and sauté until tender, about 8 min. Mix in spinach, salt, pepper, and nutmeg. Saut. until all liquid from spinach evaporates, about 3 min.
In large bowl, combine ricotta, mozzarella, and Parmesan cheeses. Add eggs and spinach mixture. Blend well.
Spoon mixture into pie crust. Bake at 350° until filling is set in center and brown on top, about 40 min. Let stand 10 min.
Cut pie into wedges.
DEEDEE'S NOTES
Recipe may be prepared earlier in the day or 1–2 days in advance. Cover and chill.
You may also prepare without the crust as a great gluten-free alternative.
I recommend refrigerated Pillsbury Pie Crust. To make your own, see Basics.
Increases well. Freezes well.
---
---
Become a Member of the Effortless Entertaining Community
---