Jalapeño Cucumber Limeade

Dear Friends,
It's March Madness … and while everyone is talking about spring, I must let you know, I am talking, reading, breathing basketball! Check out this fun article from one of my favorite WSJ writers, Jason Gay, "I love Duke, please forgive me." Even if my beloved Tar Heels lose at some point, perish the thought, I will continue to cheer on our ACC teams, even Duke. Did I mention that three ACC teams are Number 1 seeds in the tournament? Okay, enough about basketball and on with spring entertaining!
Today I give you and your fans something to cheer about with one of my favorite cocktails – Jalapeño Cucumber Limeade, page 306. My daughters introduced me to this cocktail one summer at our club in the mountains. We now make it at home all the time – it's so simple, so refreshing, and we love that it has a little kick. It's the perfect March Madness cocktail as we are all hoping our teams will kick … well, I won't go there!
Rah Rah Carolina – Go Heels! 
---
Jalapeño Cucumber Limeade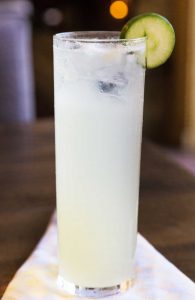 Serves 2    Jason Wills, Grandfather Golf and Country Club
INGREDIENTS
4 oz tequila
6 cucumber slices
4 jalapeño slices
2½ oz simple syrup
2½ oz fresh lime juice
Cucumber slices to garnish
DIRECTIONS
Pour all ingredients into cocktail shaker. Muddle cucumber and jalapeño slices.
Add ice and shake. Double-strain into collins glasses with Hawthorne strainer and fine mesh strainer.
Garnish with cucumber slices.
DEEDEE'S NOTES
To double-strain, hold Hawthorne strainer over cocktail shaker and pour cocktail through mesh strainer into glass.
---
---
Become a Member of the Effortless Entertaining Community
---