Dear Friends,
While enjoying this view in their wonderful home at Black Mountain, good friend Cantey Brown served this fabulous Italian pie. It was so good, I not only had seconds, but I woke up wishing I could have leftovers for breakfast. As the perfect effortless entertainer, Cantey had made this pie in advance and froze it. What could be more perfect!
Excuse me now … I'm off to have Italian pie for breakfast!
---
Italian Pie
Serves 6   Cantey Brown​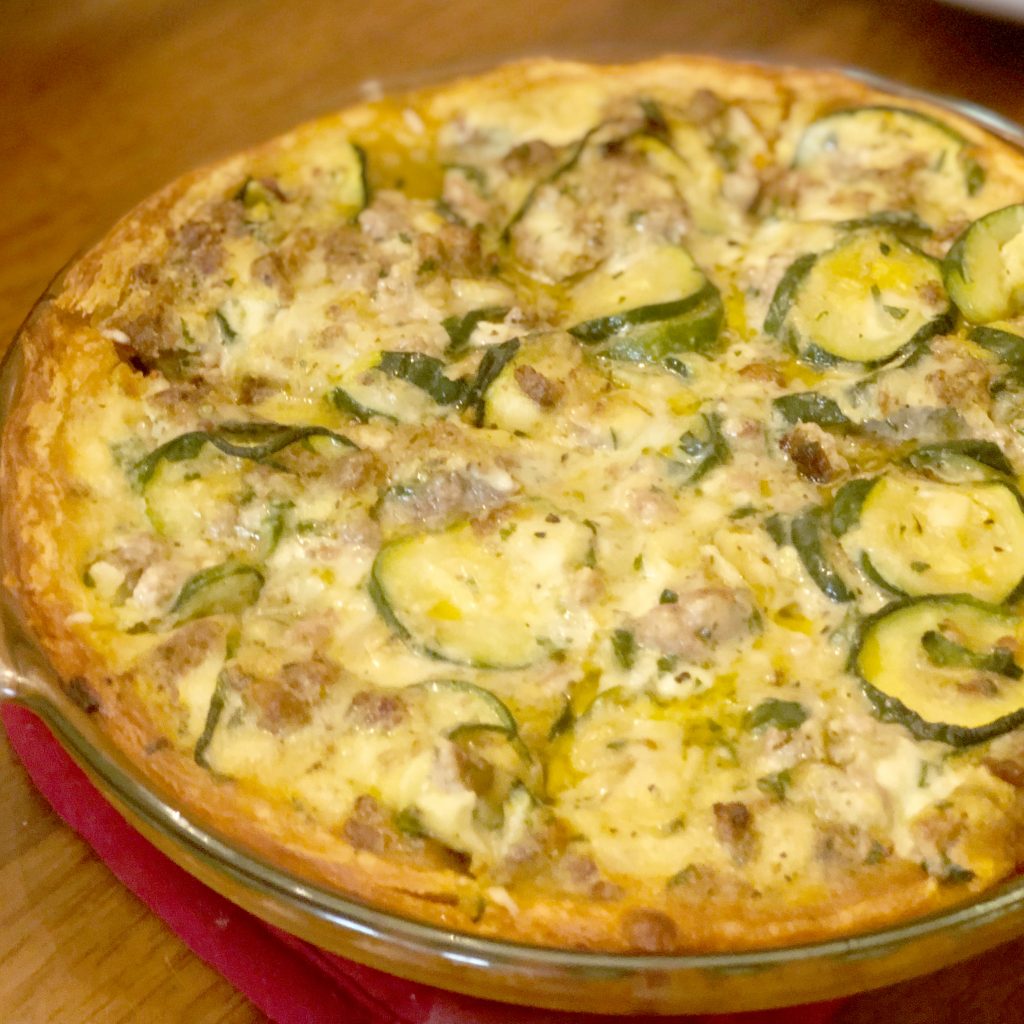 INGREDIENTS
4 cups zucchini, thinly sliced
8 oz Italian sausage
6 tbsp butter
1 cup chopped onion
2 tbsp chopped parsley
¼ tsp garlic powder
¼ tsp basil
¼ tsp oregano
2 eggs, lightly beaten
2 cups grated mozzarella cheese
1 8-oz can crescent rolls
2 tsp Dijon mustard
DIRECTIONS
Lightly salt zucchini and place in colander. Place a small plate on top of zucchini. Drain for 30 mins. Remove and pat dry with paper towel.
In medium pan sauté Italian sausage. Remove and drain. In same pan, sauté zucchini and onion in butter until tender. Add parsley, salt, pepper, garlic powder, basil, and oregano.
In mixing bowl, combine eggs and cheese. Add sausage and zucchini mixture.
Press crescent rolls into 9″ pie plate. Brush with mustard. Add sausage and zucchini mixture. Bake at 375° for 25–30 mins. Cover loosely with foil if crust is browning too quickly. Let pie stand for 10 mins before serving.
DEEDEE'S NOTES
Recipe may be prepared earlier in the day. Refrigerate. You may also prepare well in advance and freeze. Thaw before baking.

Recipe may be prepared without crust as a gluten-free alternative or without sausage as a vegetarian alternative.
---
---
Become a Member of the Effortless Entertaining Community
---