Chicken and Sausage Gumbo Goodness!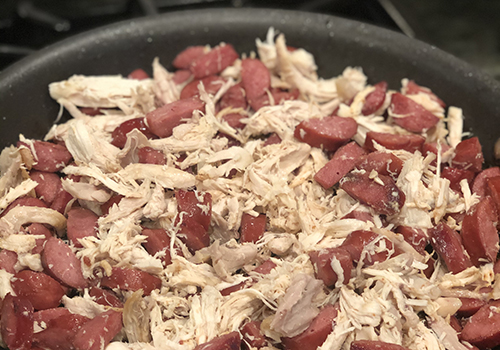 Dear Friends,
During COVID we've been blessed with long stays and visits with our children. Carolyn and Elizabeth came for what they thought would be two weeks and it turned into months. Eddie too has worked from here for extended periods of time. Many of you have experienced the same.
An added benefit to this time together is that all of our children cook and took turns preparing a few of their favorites. As mentioned in an earlier newsletter, Elizabeth has been cooking a lot from the Defined Dish and has gotten me hooked!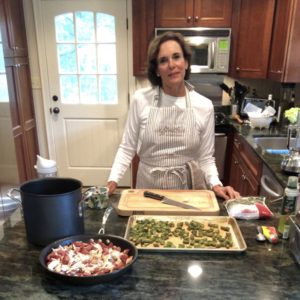 One recipe that I've really enjoyed is the Chicken and Sausage Gumbo. I served over July 4th and have made a couple of timessince. While I don't like heavier stews and soups in the summer, this one seems just right especially for rainy days at Grandfather. I'm sharing the recipe with a few modifications. I slice the andouille or kielbasa vertically before slicing into half-moon pieces. I also sauté as I like it browned and a little crispy. I substitute red bell pepper for the green. Just don't like green bell pepper and I rarely use it in anything. Finally, I have increased all the ingredients to make a bigger batch so I can freeze whatever is leftover … if any left!
Enjoy over rice with Jalapeño Cornbread and you have the perfect simple supper!

Follow EE on
Instagram and Facebook
---
Chicken and Sausage Gumbo

Serves 12
INGREDIENTS
24 oz andouille sausage or kielbasa
4 cups sliced, frozen Okra
Salt and pepper
2 cups diced onion
1½ cups diced celery
2 cups diced red bell pepper1 tsp cayenne pepper
½ tsp dried thyme
4 cloves garlic, minced
2 tbsp tomato paste
8 – 10 cups chicken broth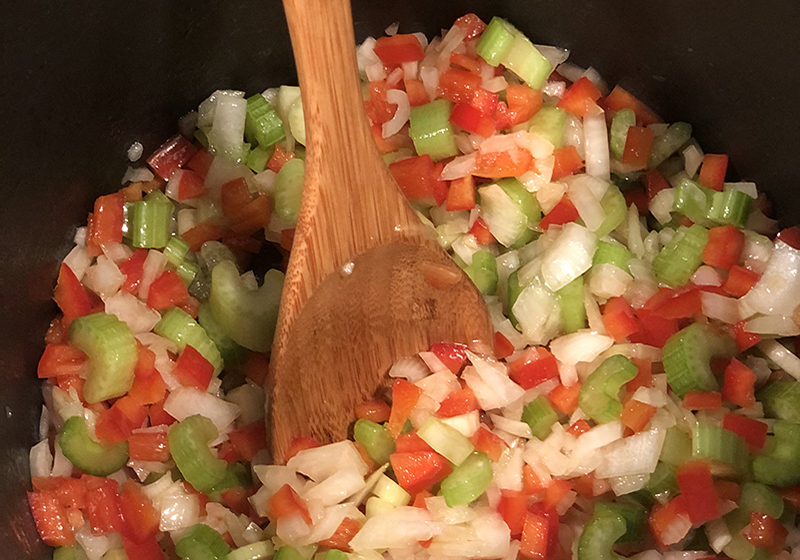 4 tbsp arrowroot
4 cups cooked and pulled chicken
DIRECTIONS
Slice the andouille or kielbasa length wise and then into half moon pieces. Sauté to cook if using andouille and to brown if using kielbasa.
Toss okra with olive oil. Season with salt and pepper. Roast at 425° for 20 – 25 min.
Sauté onion, celery, red bell pepper over medium high heat until tender, approx 6 min. Add garlic, cayenne, thyme, and tomato paste and reduce heat. Simmer 2 min.
In small bowl, combine 4 tbsp arrowroot starch with 2 cups broth. Whisk to dissolve arrowroot. Add to vegetable mixture. Cook over med high heat for approx 10 min. stirring frequently. Mixture will thicken.
Add pulled chicken, andouille or kielbasa, and okra. Add addt'l broth until you reach desired consistency.
Serve over rice or cauliflower rice. 
DEEDEE'S NOTES
Recipe may be prepared 2-3 days in advance.
Recipe freezes well.
For the pulled chicken, I use a grocery rotisserie chicken, which yields 4 cups.
The arrowroot starch may break down as soup continues to cook or is reheated. You may add more to thicken. You must dissolve in broth or water before adding to the hot soup.