Goat Cheese and Roasted Tomato Spread

Dear Friends,
I've just returned from two days of EE fun with a good friend and fabulous host, Donna Lawhon and the Garden Study Club (The Garden Club of Virginia) in Martinsville, VA, a beautiful city with great people and history. The night before our big day with the garden club, a small group enjoyed dinner in Donna and Richard's lovely home. We began the evening with champagne and raspberries and Donna's delicious Goat Cheese and Roasted Tomato hors d'oeuvres. Honestly! I wanted to ask for a fork so I could eat it right off the plate! Lucky for us, Donna is not only my friend, but she is your EE friend too and she's sharing this divine recipe. Thank you, Donna!
Those of you who have the Effortless Entertaining guide will want to check out Lawdashion's Pork Tenderloin, page 191 … another Donna Lawhon crowd pleaser. During my visit, Donna served this with DeeDee's Rice Salad, page 147, and Steamed Asparagus, a perfect and effortless spring menu!
Finally, even though my beloved Tar Heels are out of the tournament, I am ever so happy to cheer for that "Virginia is for Lovers" cutie pie, Tony Bennett, while enjoying a glass of Virginia Hamlet's award-winning Petit Verdot. Go ACC and Wahoowa!
---
Goat Cheese and Roasted Tomato Spread
Serves 8–10    Donna Lawhon
INGREDIENTS
½ pint grape tomatoes halved lengthwise
4 tbsp olive oil
Salt
Sugar
½ cup balsamic vinegar
8 oz log goat cheese
8 oz mushrooms, chopped
4-oz jar sliced sun-dried tomatoes
½ cup fresh basil
2 cups fresh baby spinach
DIRECTIONS
Slice tomatoes in half lengthwise and place them cut side up on parchment paper. Drizzle with 1-2 tbsp olive oil and salt.
Roast in oven at 275° for 1 hour. Sprinkle tomatoes with a dusting of sugar and roast for additional 30 min or until tomatoes are shriveled and dark red. Remove from oven and set aside.
In saucepan heat ½ cup balsamic vinegar until reduced by half or until it reaches syrup-like consistency, approximately 10 min. Set aside.
Place goat cheese log on oven safe serving platter. Warm at 200° for approximately 15-20 min.
Heat 2 tbsp olive oil in pan and add mushrooms cooking over med heat until brown. Add sun-dried tomatoes, basil, and roasted grape tomatoes. Add spinach and warm over med heat until spinach is wilted.
Remove cheese from oven and top with vegetable mixture. Drizzle with reduced balsamic vinegar.
Serve immediately with crostini or plain crackers.
---
SOURCES & RESOURCES
One of Ed's and my favorites, Hamlet Vineyard's award-winning Petit Verdot.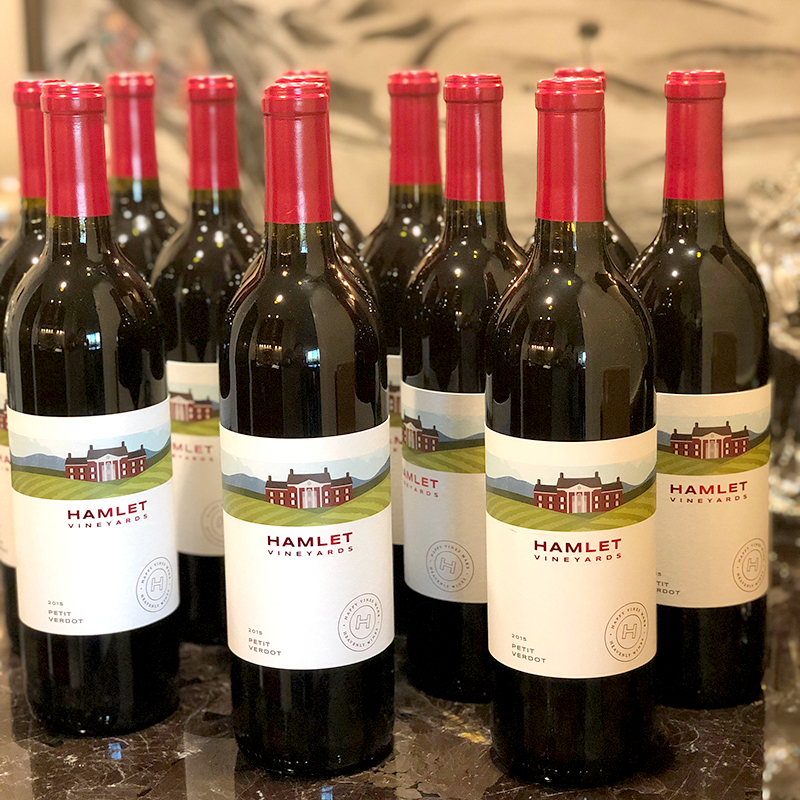 ---
---
Become a Member of the Effortless Entertaining Community
---