Cocktails, Mocktails, and Hors d'oeuvres!

DEAR FRIENDS,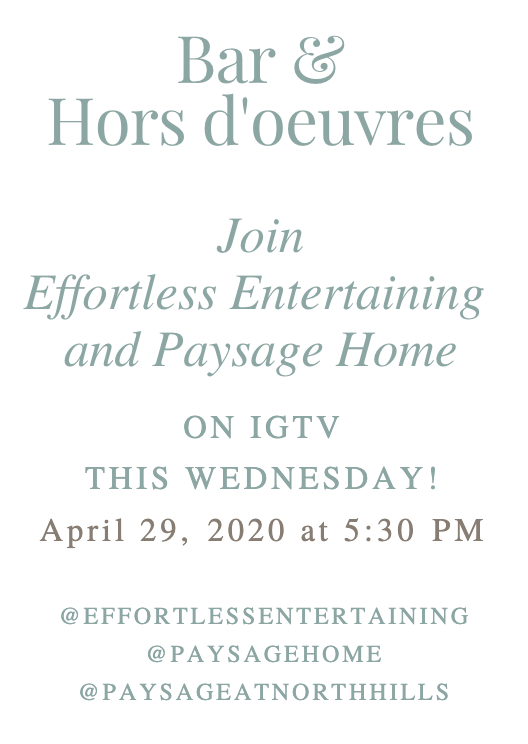 In Wednesday's video created in collaboration with Paysage Home, we're talking about cocktails, mocktails, and hors d'oeuvres. I just love the cocktail hour, don't you?!
Given that we are unlikely to host any big events in our homes for some time, in this week's video I will focus on small gatherings. While the above photo is beautiful and gives you an idea of what we set up when entertaining a large group, I suspect we, like many of you, will be hosting smaller groups. Much of what I'll cover in the video applies for all gatherings, but the set up will vary depending on the number of guests and your home.
In this week's video, we're featuring several Effortless Entertaining cocktails, mocktails, and hors d'oeuvres. Recipes are in your Effortless Entertaining guide or on the BLOG and in this newsletter as well. Also in the guide, you'll find Step 5, "Consider the Cocktails and Mocktails," offering essentials and extras for your beverages and glassware. In Style Points and in Sources and Resources (also on the website) you'll find additional suggestions … just too much to cover in our video! Many of the beautiful items featured in this segment are of course, from Gigi's gorgeous shop, Paysage Home. I hope you are following Paysage Home on Instagram and that you're receiving her newsletter. Both Paysage and Effortless Entertaining are happy to ship!
In these short videos, Gigi and I hope that we are inspiring you to gather again with friends and family in our homes as our states lift restrictions. We want to help you carry on with time honored traditions as well as consider new approaches for everyone's safety and well being. I look forward to welcoming you into my home again this week while we enjoy a cocktail or mocktail together!
With gratitude,
Follow EE on
Instagram and Facebook
---

Enjoy!
Jalapeño Cucumber Limeade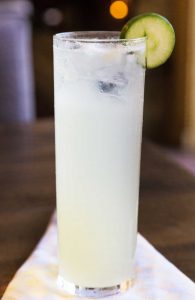 Serves 2    Jason Wills, Grandfather Golf and Country Club
INGREDIENTS
4 oz tequila
6 cucumber slices
4 jalapeño slices
2½ oz simple syrup
2½ oz fresh lime juice
Cucumber slices to garnish
DIRECTIONS
Pour all ingredients into cocktail shaker. Muddle cucumber and jalapeño slices.
Add ice and shake. Double-strain into collins glasses with Hawthorne strainer and fine mesh strainer.
Garnish with cucumber slices.
DEEDEE'S NOTES
To double-strain, hold Hawthorne strainer over cocktail shaker and pour cocktail through mesh strainer into glass.
---
Strawberry Mojito Mocktail
Serves 2
INGREDIENTS
1 oz lime juice
½ cup strawberries, quartered 2 tsp sugar
6 mint leaves
2 limes, cut in wedges
Club soda
DIRECTIONS
In a mixing glass, muddle lime juice with sugar. Add mint leaves and strawberries. Muddle.
Squeeze lime juice from limes into mixture.
Fill glass with club soda. Pour cocktail through julep strainer into collins glasses over ice.
---
Cucumber Spread
Serves 10—12          Inspired by Southern Living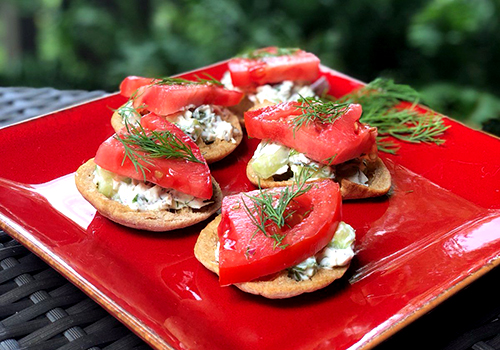 INGREDIENTS
8-oz cream cheese, softened
2 cups unpeeled,
chopped Persian cucumbers*
¼ cup finely chopped red onion
3 ½ tsp chopped fresh dill
3 tsp dried mint
2 tsp fresh lemon juice
1 tsp lemon zest
1 tsp white wine vinegar
1 tsp salt
½ tsp pepper
DIRECTIONS
Combine all ingredients.
To serve, spread on crostini or white bread rounds with tomatoes and garnished with fresh dill or use as spread with tomato or turkey sandwiches.
DEEDEE'S NOTES
I recommend Persian cucumbers, which are small, thin, and usually sold packaged, vs. loose, in your produce section. They're also firm, crisp, and taste amazing. The skin is edible, not like the thick, waxy skin on your standard variety.
---
Three Cheese Pimento Cheese
Serves 10–12     Inspired by Southern Living
INGREDIENTS
8-oz sharp white cheddar cheese, grated
4-oz Gouda cheese, grated
4-oz goat cheese, crumbled
½—1 cup mayonnaise
1 4-oz jar diced pimento, drained
½—1 tbsp hot sauce
1 tsp McCormick Seasoned Salt
½ tsp pepper
DIRECTIONS
Combine all ingredients. Season with hot sauce to taste.
Delish on BLT's or burgers, grilled pimento cheese, grilled bacon, and pimento cheese, pimento cheese melted on crostini.
DEEDEE'S NOTES
Avoid using pre-packaged grated cheese as it comes with additives to keep it from clumping. To make grating easier and safer, use a box grater with cut resistant gloves. See Sources & Resources. You can also use a food processor which will make the cheese grating even more … effortless!
---
Salmon and Green Apple Tartare
Serves 8–10
INGREDIENTS
5 oz fresh pacific salmon, diced
2.5 oz smoked salmon, diced
½ bunch of chives, chopped
2 tbsp finely diced red onion
⅓ peeled and finely diced
green apple (Granny Smith)
5 tsp olive oil
4 tsp lime juice
½ tsp fleur de sel or kosher salt
1 pinch ground pepper
2 oz beet sprouts or
other colorful microgreens
Lime zest, optional
DIRECTIONS
In medium bowl, mix fresh and smoked salmon. Add chives, red onion, and green apple, olive oil, lime juice, salt, and pepper. Mix. Voila! An easy hors d'oeuvre!
Serve in a martini shot glass, on a small plate, in a choux (small French pasty), or on a very light cracker on top of microgreens to add color. You may also top with lime zest.
DEEDEE'S NOTES
To prepare in advance, Florence recommends mixing all the ingredients 2-3 hours in advance except the lime juice. Add the lime juice prior to serving as she says the lime juice will "cook" the salmon.
Florence also says this recipe may be prepared with smoked salmon only.
---
Parmesan Walnut on Endive
Serves 8–10              Adapted from Inspired Cooking, First Presbyterian Church
INGREDIENTS
1 4-oz wedge Parmesan
1 small clove garlic, minced
½ tsp salt
1 tbsp mayonnaise
2 tbsp fresh lemon juice
2 tbsp olive oil
½ cup finely chopped celery
4 Belgian endives
1 cup finely chopped,
lightly toasted walnuts
¼ cup finely chopped Italian parsley
DIRECTIONS
Slice Parmesan ⅛ inch thick and then chop into cubes to yield approx 1 cup.
Mash garlic with salt to form a paste. Whisk together garlic paste, mayonnaise, lemon juice, and olive oil in mixing bowl. Stir in Parmesan and celery.
Trim endives and separate leaves. Stir walnuts and parsley into salad. Scoop about 1 tbsp salad onto each endive leaf and serve.
DEEDEE'S NOTES
Recipe may be prepared a day in advance except for the walnuts. Cover and chill. Add walnuts prior to serving.
Endive leaves may be prepped a day in advance. Cover and chill.
I like leftovers as a snack or mixed in a green salad.
Increases well.