JULY 4TH MADE EFFORTLESS! (2021)

Dear Friends,
Excuse me … how did it get to be July?!!! Honestly, it was January just yesterday. It seems everyone is talking about how 2021 is flying by at warp speed! 
So, here we are … getting ready for July 4th! This year we will have the fewest number of people we've ever had for the 4th. We are between two family weddings, one daughter abroad, and Elizabeth's fiancé in Charlotte studying for the bar. Even though we are small in number, we will still be about big fun! 
In between golf, tennis, hikes, and walks, we will enjoy a lot of family time on the porch for breakfast, lunch, cocktails, and dinners. Because our group is so much smaller, I decided it would be better to share last year's GamePan and Menus with you. Since I'm doing less this year, last year's information will provide more information that will be helpful for you! 
As I always suggest to you, I keep my list in the Notes function on my phone. I can easily add and edit. I also email the list to our family to provide everything they need to know. Once everyone arrives, I post the list on the fridge along with a friendly reminder that the speed limit in the club is 20MPH. 🙂
Many of the recipes can be prepped or prepared in advance. For recipes that we (yes, that means others will be helping!) will make closer to our festivities, I've planned when we will prepare each recipe. I will also make my grocery list in Notes. This will also be effortless as I simply copy and paste the ingredients needed into Notes from the EE Recipes online. For those of you who have the guide, you too can do this! If you have a guide and don't have an online login, please email me to set that up for you.
Take a look at the list below and start making your list too. We've provided a PDF below that will help you get started. Of course, you can always use Notes on your phone. In your EE guide and online, you also have a generic Shopping List that you can print. See Charts in Sources & Resources. Step Nine in Effortless Entertaining, "Plan Your Work and Work Your Plan." With good planning and prep, our July 4th gatherings can truly be … effortless! 
From our home to yours,


DeeDee@MyEffortlessEntertaining.com
Follow EE on
Instagram and Facebook
---
July 4th GamePlan   🇺🇸🇺🇸🇺🇸
Remember, dates below are from 2020! 
13 people
Friday, June 26

CLT, DC, & ATL Dals arrive❣️
Dinner at home (8)
Chicken and Sausage Gumbo (Defined Dish)
Dress — Casual

Saturday, June 27

Golf, Tee time TBD ⛳️
Dinner at the club (8)
Dress — Jacket, no tie

Sunday, June 28 

Virtual Church
Family Golf, Bloody Marys on Mountain Springs ⛳️
Lunch at 10th Tee
Chateau Montelena Private Tasting and Birthday Dinner (8) 🍷
Charcuterie, sous vide Ed's Best Rib-eyes, Scalloped Potatoes, Chopped Salad, Sour Cream Muffins, Birthday Cake 🎂
Dress — Nice Casual

Monday, June 29

Family Golf, Mountain Springs (9 holes), 5:00 ⛳️
Drinks on Dornie Porch, 7:00 & Dinner on Patio, 8:00.
Dress — golf, casual

Tuesday, June 30

Dinner at home (7)
Cucumber Spread, Pimento Cheese, Olive Oil Poached Halibut w Sauce Verte (California Cooking & Southern Style) Peel & Eat Shrimp, Asparagus, Salad, Game Day Brownies & Ice Cream
Dress — Casual

Wednesday, July 1

Pinehurst Dals arrive! 😍
4:00pm – 6:00pm Chip, Putt, Drink
Dinner at home

Steaks, Succotash, Salad with Heirloom Tomatoes and Burrata, Maw's Berry Cobbler and Ice Cream

Dress — Casual

Thursday, July 2

Golf, Tee Times 12:00pm ⛳️
7:00pm – midnight Famly Dance
Dress — Coat & Tie

Friday, July 3

1:00 Lunch on the McRae Patio
4:30pm – 6:30pm Egg Toss
6:30pm Porch Party

Saturday, July 4

Family Golf, Mountain Springs ⛳️
Dinner at home
Guacamole and Salsa, Fried Chicken (Painted Fish), Vegetable Salad, Tomato Pie, Chocolate Chip Cookies
GGCC Fireworks 💥💥💥
Dress — Casual

Sunday, July 5

Everyone leaves except the Moms and Dads
Dinner on the patio (4)

🇺🇸🇺🇸🇺🇸

Printer-friendly Fillable One-Week GamePlan**

**Best filled out in your Web-browser or Adobe Acrobat

Signature Cocktails

Cucumber Jalapeño Limeade
Swoon Jalapeño Margarita
Liz's Perfect Margarita
Grapefruit Martini
Old Fashioned
Cosmos

On Your Own

Breakfast – OYO

Eggs & Egg Casserole
Toast
Bacon
Avocado
Blueberry Muffins

Lunch – OYO

Sandwiches, 10th Tee, Beach

On Hand

Sandwich … Turkey, Pimento Cheese, Tomato, Bacon, Avocado, Pesto, etc
Orzo
Chips
Fruit

What to Wear and What to Pack

What to Pack

Jacket (no tie), long sleeve dress shirts, cute tops, casual dresses, jeans
Work out, hiking, and tennis clothes
Golf clothes, shoes, clubs
Bathing suits
Wraps, Sweaters

Dress

Casual — golf shirt/long sleeve shirt, shorts, khakis, jeans for men. Casual dress, pants, or jeans for girls
Nice Casual — long sleeve shirts for men and simple dresses or cute tops with jeans for girls,
jeans okay

Note: Club is allowing jeans for dining on the patio. We still prefer long sleeve shirts and jackets for men on the weekends even with jeans.

To-Do List

Thursday, June 18 – Sunday, June 21

Lemon Bomb
Pimento Cheese
Ribs Sauce
Ribs Rub
Order Barbecue, Yeast Slider Rolls from Crista's
Order Birthday Cake
Order Halibut, Limas, Pies

Monday, June 22

Grocery
Prepare Egg Casserole "Muffins"
Prepare Blueberry Muffins

Tuesday, June 23

Wednesday, June 24

Prepare Chicken & Sausage Gumbo

Thursday, June 25

Maw's — Halibut, Limas, Corn, Tomatoes, Pies
Make Game Day Brownies
Prepare Cucumber Spread, Pimento Cheese
Prepare and freeze Succotash

Friday, June 26

Grocery
Prepare Jalapeño Cornbread
Season and seal steaks – Ed
Prepare Scalloped Potatoes

Sunday, June 28

Prepare Charcuterie, Sour Cream Muffins, Chopped Salad (before wine tasting)

Monday, June 29

Elizabeth – Place cards (incl Richardsons) and drink recipe cards

Tuesday, June 30

Prepare Pork Rub and Sauce
Prepare Sauce Verte for Halibut

Wednesday, July 1

Prepare Rice Salad
Prepare Asparagus and Prosciutto, Salad

Thursday, July 2

Friday, July 3

Prepare Jalapeño Cornbread

Saturday, July 4

Pick up Chicken
Prepare Tomato Pies

Printer-friendly Fillable Shopping List**

**Best filled out in your Web-browser or Adobe Acrobat
---
Style Points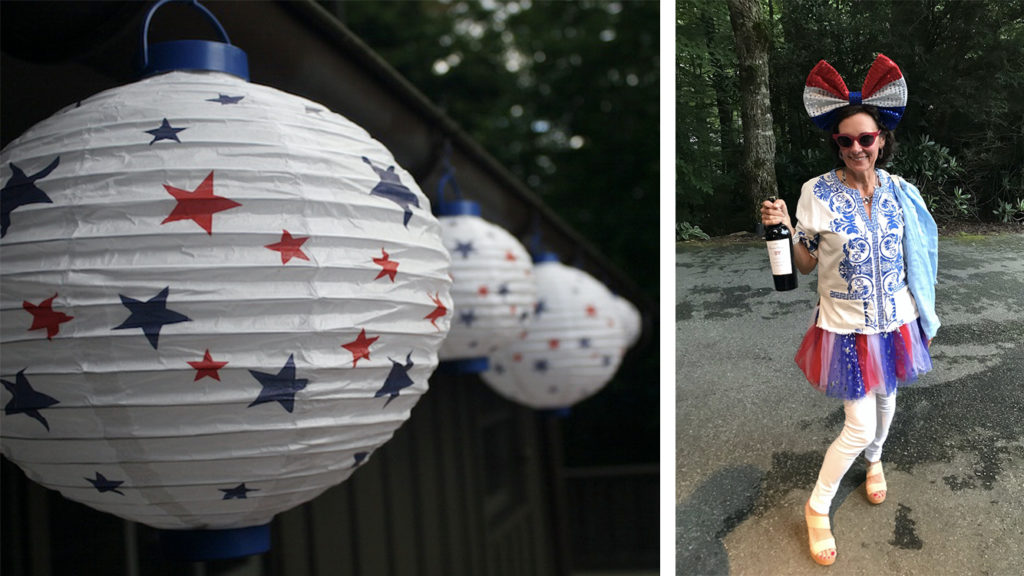 ---
Tips & Quips
Without question, one of my best ideas EVER! You can see last year's list and this year's is ready to go. I never had to ask anyone to empty the dishwasher … Everyone wanted to make sure they added their name!


Last year I ordered Makeup towels for the girls as their Welcome gift. These are a win-win for host and guest — a party favor from the weekend for your guests and no makeup on your white hand towels! We gave the boys tee bags with golf balls, tees, and ball marks. I can't tell you what I'm doing this year … it's a surprise! Available here

Wine Markers are essential with so many people drinking out of so many glasses. These are my favorites. Available here

Signature Drink recipes will be posted in the bar so
everyone can make their own!