Dear Friends,
During my summer break, I enjoyed playing in a few Member Guest Golf events … so much fun! During one of these we were served Ina Garten's Pesto Pea Salad, which has now become one of my favorite go-to salads. Everyone else loves it too! Well … edthedad, only likes it when I add Romaine, which is a great way to modify the recipe. I have modified the recipe to provide variations for our people who may not like spinach or peas, along with a few other options.
There are so many things to love about this recipe!
Make extra pesto dressing to have on hand, so pulling this salad together is super simple every time.
It truly is perfect for any season and an incredibly versatile side dish or as a plated first course. 
If not mixing/making with Romaine, this salad does well as a leftover the next day. The spinach holds up better than lettuce. 
As for the pine nuts … edthedad kindly pointed out how expensive pine nuts are, and of course, he is correct. I do try to buy them in bulk from Costco, or often Trader Joe's is a less expensive option. As the recipe notes, for the actual salad, you can omit or substitute with slivered almonds.
One last and VERY important thing … the next workshop dates were announced in Wednesday's newsletter – we begin on October 10th … in just a few weeks! SO exciting!!!  Be sure to register right away!  Due to speaking engagements later this fall, this may be the only fall workshop!
Join me and let's get ready together for our fall and holiday entertaining now!
From our home to yours,

Follow EE on
Instagram and Facebook
---
Spinach and Pesto Salad
Serves 8                      Adapted from Ina Garten's Pesto Pea Salad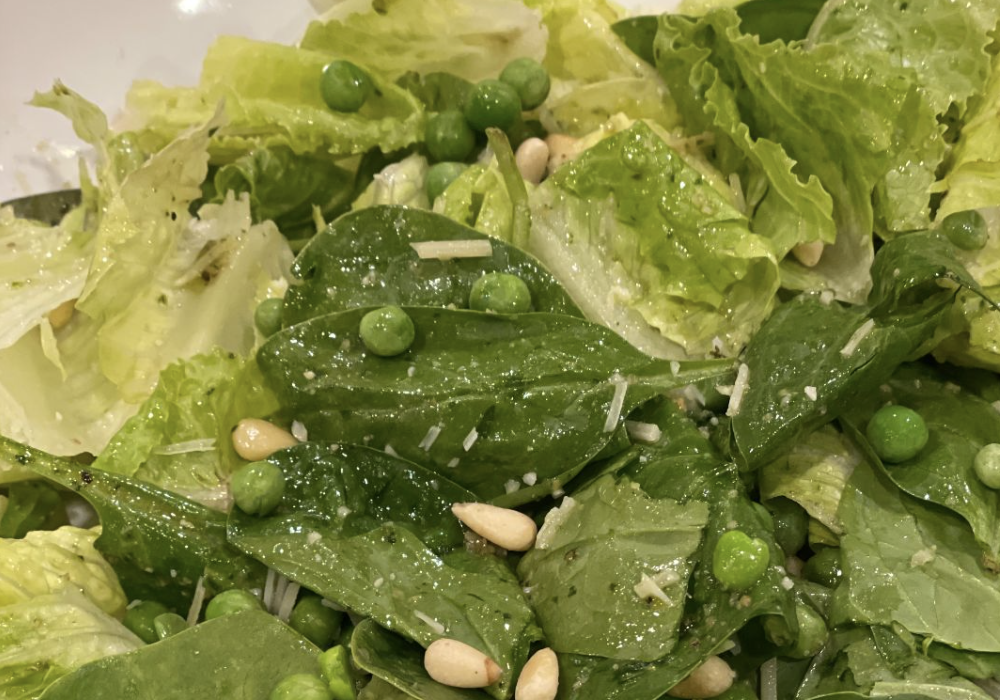 INGREDIENTS
SALAD
4 cups frozen petite peas
8 tbsp pine nuts
5 cups baby spinach leaves
½ — 1 cup shredded Parmesan cheese
¼ — ½ cup Pesto Dressing to taste
DRESSING                     Yields 4 cups
¼ cup walnuts
¼ cup pine nuts
3 tbsp diced garlic (approx 9 cloves)
5 cups fresh basil leaves, packed
1 tsp salt
1 tsp freshly ground pepper
1½ cups olive oil
1 cup shredded Parmesan cheese
DIRECTIONS
SALAD
Thaw and drain peas.
Toast pine nuts in a dry sauté pan over medium heat for approx 3 – 4 min. Watch carefully.
Trim spinach leaves of long stems.
Place ingredients in salad bowl. Toss with dressing to serve.
DRESSING
Add walnuts, pine nuts, and garlic in the bowl of a food processor fitted with a steel blade. Process for 30 seconds.
Add the basil leaves, salt, and pepper. With the processor running, slowly pour the olive oil into the bowl through the feed tube and process until the pesto is finely pureed.
Add the Parmesan and puree for an additional minute.
DEEDEE'S NOTES
Dressing may be prepared weeks in advance.
Salad may be prepped earlier in the day and tossed with dressing before serving.
You may add/substitute Romaine lettuce.
You may omit the peas.
You may omit the pine nuts from the salad (not the dressing) or you may substitute with slivered almonds.
---

Printer-Friendly Recipe | Printer-Friendly Newsletter
---