Old fashioned goodness! 🙌🏻 – Bread Pudding with Vanilla Sauce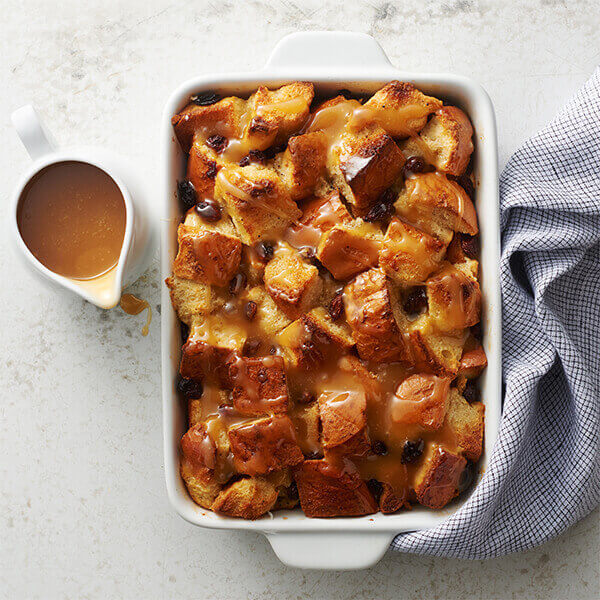 Dear Friends,
True confessions … I'm not too fond of pumpkin. I don't care for pumpkin lattes, pumpkin muffins, pumpkin pie. So, during this season when nearly every foodie email I receive is about pumpkin desserts, I just hit delete, delete, delete. So, what to do for a fall dessert? Easy, peasy Bread Pudding … sure to make every guest swoon. One of these days I will also try to make with gluten-free bread. I bet that will work too. And this dessert is not just for fall. It will carry you right through winter!
My cousin Eydie's husband, Paul, shared this recipe many moons ago and it's been a family and friends favorite ever since. I'm pretty sure it was the first dessert our daughter Elizabeth learned to make. If a twelve-year-old can do it, we all can!
I hope you'll give this old-fashioned dessert a go. You — and your loved ones — will be glad you did!
From our home to yours,

Follow EE on
Instagram and Facebook
---
Bread Pudding
Serves 6 – 8
INGREDIENTS
BREAD PUDDING
¾ cup raisins
¼-½ cup bourbon, optional
3 eggs
1½ cups sugar
2 tbsp light brown sugar
½ tsp ground nutmeg
¼ cup butter, melted
1¾ cups whipping cream
4 cups cubed French bread
VANILLA SAUCE
½ cup sugar
3 tbsp light brown sugar
1 tbsp flour
1 dash nutmeg
1 egg
2 tbsp butter
1¼ cups whipping cream
1 tbsp vanilla extract
DIRECTIONS
For bourbon twist, marinate raisins in just enough bourbon to cover for at least 6 hours or overnight.
If not using bourbon, add raisins as directed below. For the pudding, combine eggs, sugar, brown sugar, and nutmeg. Stir in butter and whipping cream. Gently stir in bread and raisins. Pour into lightly greased 2-quart soufflé or casserole.
Bake at 375° for 50-55 min, covering loosely with aluminum foil after the first 30 min to prevent excessive browning. Let pudding stand 10 min before serving.
For the sauce, whisk sugar, brown sugar, flour, nutmeg, egg, butter, and whipping cream in a heavy saucepan. Cook over medium heat, whisking constantly, 10-12 min or until thickened. Remove from heat; stir in vanilla.
To serve, pour warm Vanilla Sauce over each serving of Bread Pudding.
DEEDEE'S NOTES
Recipe may be prepared earlier in the day or 1 day in advance. Cover and chill. Bring to room temperature to bake. Sauce may be prepared earlier in the day or 1 day in advance. Cover and chill. Warm in the microwave for approx 2 min or until thoroughly heated, stirring every 30 sec.
Increases well.