Lidey's Side! 🙌🏻
Dear Friends,
You are going to love, love, love this new delish side from Lidey Heuck, better known as @lideylikes, on Instagram. You can also find her on lideylikes.com. Good friend, Mary Beaver, put me on to Lidey, and I'm so glad she did!
My latest greatest find from Lidey is this fabulous side, Hot Honey Roasted Carrots. I've lost count of how many times I've served and always to rave reviews. Although I often think of carrots as an autumn dish, this dish is so fresh and flavorful that it works for any season and is the perfect side for almost any menu. I have served with fish, chicken, and pork. I love that it brings color to the plate. Of course, you know the thing I love most of all … yep, it's effortless! Lidey has graciously agreed to let me share this recipe with you! Let's all say Thank you!
Be sure to check out her video on Instagram for this dish. It will make your day! Now add these ingredients to your grocery list and enjoy!
From our home to yours,

Follow EE on
Instagram and Facebook
HOT HONEY ROASTED CARROTS WITH GOAT CHEESE
SERVES 4–6            Lidely Heuck, LideyLikes
INGREDIENTS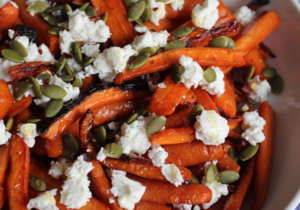 2½ pounds carrots, trimmed and scrubbed
3 tbsp extra-virgin olive oil, plus more as needed
2 tbsp liquid honey, plus more for serving
½ tsp crushed red pepper flakes
Kosher salt
3 tbsp hulled pumpkin seeds (pepitas)
2 oz plain creamy goat cheese, crumbled
DIRECTIONS
Preheat the oven to 425°.
Cut the carrots into pieces that are about 2 to 3 in by ½-in thick. Place in a large mixing bowl and toss well with the olive oil and 1 tsp salt.
Roast for 20 min, tossing once, until the carrots are almost tender and are beginning to brown. Add 1 tbsp honey and ¼ tsp red pepper flakes, toss, and roast for 10 to 15 min more minutes, until the carrots are nicely caramelized. Toss and set aside for 10 min to cool slightly.
Meanwhile, heat a small skillet over medium-low heat. Add a tsp or two of olive oil, along with the pumpkin seeds and a pinch of salt. Cook, tossing often, until the seeds are fragrant and lightly toasted, about 3 min. Transfer to a small bowl and set aside.
To serve, place the carrots in a shallow serving dish. Top with the crumbled goat cheese, toasted pumpkin seeds, a drizzle of honey and a sprinkle of salt. Serve warm or at room temperature.
Printer-Friendly Recipe | Printer-Friendly Newsletter