Perfect Game Combo … Vidalia and Cheddar! 🏈

Dear Friends,
Thank you for your wonderful emails and comments in response to last week's newsletter. Stay tuned as we work on your ideas! In the meantime … it's football season! Even with no fans and fake crowd noise, we are still watching football!
As always, we're watching our team, and we're probably watching yours too, given that we tune in for Saturday, Thursday night, and Sunday afternoon and night games. I'm not exaggerating! While we're not hosting big tailgates — actually, we're not hosting any tailgates  — and while we're not enjoying big football parties at home, we might still watch the game with a few friends. Many of you have outdoor porches with big screen TV's, and this seems like a great COVID safe space for a small group.
If so, treat them and yourselves to the Vidalia and Cheddar Spread. Easy and so good you could eat with a spoon. You can also enjoy it on a sandwich as one of my editors once did. She said it was fantastic! Can you just imagine this spread with a late-season tomato? YUM!
From our team and home to yours,

Follow EE on
Instagram and Facebook
---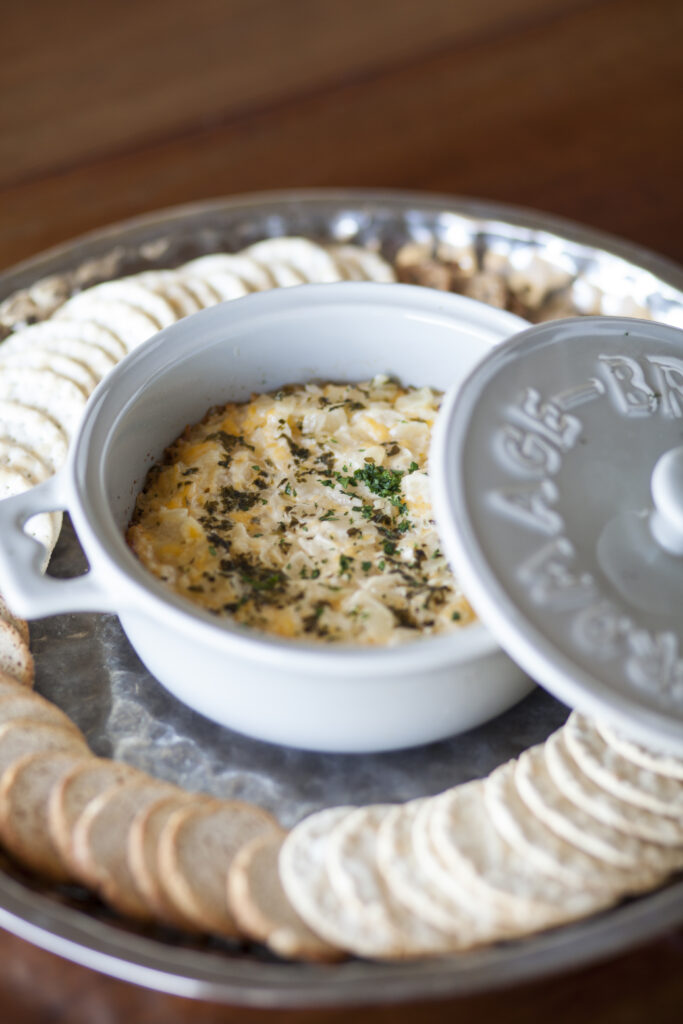 Vidalia Onion and Cheddar Dip
Serves 12 – 14
INGREDIENTS
6 cups chopped Vidalia onion, ~3 lg onions
2 tbsp butter
1 scant cup mayonnaise
2 cups cheddar, sharp shredded
1 clove garlic, minced
½ tsp Tabasco
2 tbsp chopped Italian parsley, optional
Sauté onion in butter over medium-high heat until tender. Remove from heat and combine with remaining ingredients. Transfer to shallow buttered ovenproof serving dish. Bake at 375° for 25 min.
Garnish with parsley, optional. Serve warm with crackers.
Recipe may be prepared earlier in the day or 2–3 days in advance. Cover and chill. Bake prior to serving.
Do not use prepackaged chopped onions or prepackaged shredded cheese.